Discussion Starter
·
#1
·
Hi everyone,
***Warning - long post ahead***
I originally posted this in the surfcaster thread, but no one seemed interested in answering any questions, so I thought I'd post it, here. I apologize for the cross-posting.
My name is Fred, and I'm based out of Staten Island, NY. I've been a freshwater angler for some time (primarily LMB - and bluegills, when I'm feeling lazy). The hot weather and the mosquito spraying have chased the fish, further and deeper than I can reach from shore, so I've decided to start dabbling in saltwater.
As with freshwater, I'm also a surfcaster when it comes to salt. Primarily beaches, but occasionally, I'll hit the piers when I want to get some snapper blues for live bait.
Currently, my only saltwater gear is a 9' Shakespeare Alpha BigWater, and a second 9' that I cobbled together. The pole is an R2F (same specs as the Alpha, but much lighter and more flexible). The reel, I found in the garage. The previous tenant left it behind, so I tore it down, de-greased, re-greased and rebuilt. It's a little ugly on the outside, but works like a champ.
As you may have guessed, I'm probably going to have a lot of questions, particularly when/if tactics differ greatly between fresh and salt fishing techniques.
I know that, currently, we're not in striper season, but I do want to be prepared for when they do start to run. Slammer blues have started making an appearance, recently, so there's hope that stripers aren't all that far behind. And that's where most of my questions come in.
As someone who's stuck on the beach, there aren't that many options for blind fishing, other than cast, sit, retrieve and repeat. I've been watching videos of people trolling for striper with vertical rigs. And when fishing a deep hole for LMB, we use a drop-shot rig (very similar, if not the same thing).
Anyway, as a natural-born tinkerer, I've been playing around with the idea of a vertical rig, that can simulate trolling. I came up with this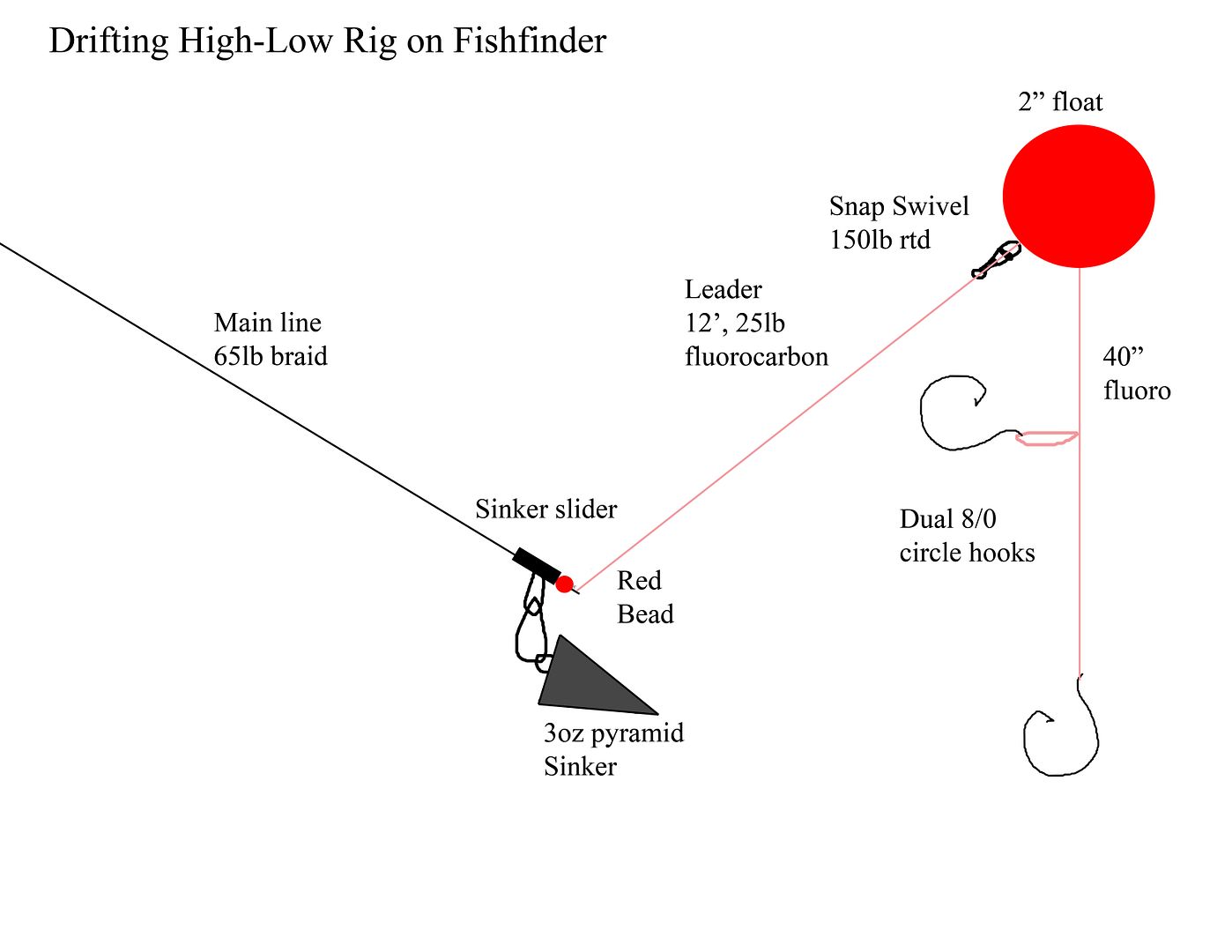 The idea is that the float keeps the rig in a vertical suspension, but because there is no weight, it can drift with the current. The pyramid weight, allows me to cast much further out, than if it were non weighted. Plus, it keeps it from drifting too far up, or, down the inlet and becoming a nuisance to other anglers.
In practice, the rig works fine. The real question is, what kind of baits should I be putting on the hooks? Should I double up on snapper blue? Raw chicken? Raw shrimp? Berkley Gulp artificials? Cut bunker?
I guess I should put this out there, this rig, I tend to dead-stick, while I actively fish on the second pole. Because the rig drifts, it's just not sitting on the bottom, so it should be a pretty good presentation.
The R2F pole, I use 20lb braid, a 2oz bank sinker, a fluke rig and either gulp shrimp or a gulp swimming mullet. As you might have figured out, this one, I use to actively hunt fluke. I'm still trying to determine the best bait. Some days, they love the gulp shrimp, others, they couldn't care less. Some days, it's fresh shrimp, others nothing. Problem is, fresh shrimp can get expensive. Will fluke take strips of raw chicken (if I cut them like a belly strip, so they flutter)?
I apologize for the long the post, but I I'd just like to get as much information as possible, out there.
Thanks,
Fred