New Jersey Striper Fishing


Striped Bass Fishing in the back bays, jetties, inlets and beach front all along the New Jersey Coast N.J. STRIPED BASS FISHING REPORTS

More information in county links.

Monmouth County New Jersey Middlesex County New Jersey Atlantic County New Jersey Cape May County New Jersey Ocean County New Jersey Atlantic Highlands N.J. New Jersey striped Bass fishing

New Jersey's has 83 miles of bayshores and 127 miles of Atlantic coastline.

We use the following The following acronyms for reports in our forum based in the mid atlantic region. we have many veteran surfcasters and party and charter boat as well as pleasure boaters who work up and down the new jersey coast and know just about every inch of the state. We are cognizant of the need for discretion when it comes to report chasers lurkers and googans who have no respect for the fishermen or the fishery. Those who want to learn and become stewards of the resource are welcome to join us in our forums and the stripers 101 beginners clinic.

We refer to general areas where stripers move in and out with the tides and baitfish - and these acronyms should cover most of the state:

RB - Raritan Bay

SH- Sandy Hook

NoMoCo- Northern Monmouth County (Sea bright to Shark River)

SoMoCo- Southern Monmouth County (Shark River to 'Squan River)

NoOC - Northern Ocean County

SoOC - Sourthern Ocean County

IBSP-Island Beach State Park

LBI- Long Beach Island

AC - Atlantic County

CISP- Corson's Inlet State Park

CMC- Cape May County

CMR- Cape May Rips

DB- Delaware Bay

New Jersey Division of Fish and Wildlife
Striped Bass Season
The striped bass begin their annual run in early spring after spawning in the Chesapeake Bay, The Roanoke and the Hudson and Delaware Rivers. This usually takes place when the water temperature hits 60 degrees. Then they leave the estuaries and begin their trek northward towards New England. Foraging all along the New Jersey coastline and the Delaware Bay on the way. The reverse takes place in the fall on their way back to their wintering grounds in North Carolina.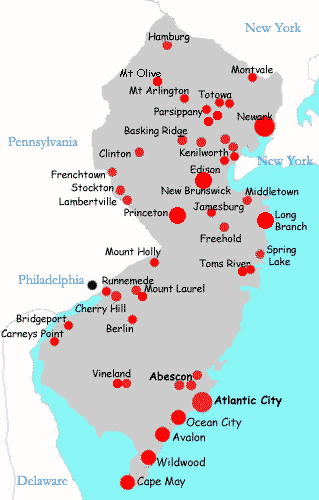 The closed seasons for striped bass are: January 1 through February 28 in all waters except the Atlantic Ocean from 0-3 miles offshore; and April 1 through May 31 in the Delaware River and its tributaries from the Route 1 Bridge in Trenton downstream to and including the Salem River and its tributaries. Any striped bass caught during a closed season must be released immediately. The possession or killing of a striped bass during a closed season is a violation of the law and will result in prosecution.
Also note that fishermen may possess one additional striped bass per day under the Striped Bass Bonus Fish Program subject to the following: 1) the angler must apply for and receive a fish possession card in advance of attempting to take a bonus fish; and 2) the minimum size limit for a striped bass taken under the bonus program is 28 inches. For more information on the bonus program, call 609-748-2020.
New Jersey Marine Weather Forecasts
Tides for New Jersey
New Jersey striped bass and fishing Regulations
Raritan Bay Stripers
New Jersey Striped Bass Fishing Reports
NJ Charter and party boat directory
New Jerseys World record striper
Al McReynolds' story
New Jerseys Freshwater Striped Bass record
Choose a beach
Stripers start showing in the back bays Mid March by June the spring run is in full swing. The striped bass are migrating up the coast to spawn in the hudson river around mid may when the water temps approach 60 degrees. prime water temps are 50 to 70 for stripers. The nor'east storms are what many surfcasters keep a close watch on. the jetty hoppers are out day and night. most beach rats follow the tell tale signs of birds feeding indicating a blitz of bass and or blues.
North to South New Jersey Party and charter striper fishhing boats and public access coordinates can be found at the links to the counties.
ESSEX COUNTY
Glen Ridge/Montclair -
MIDDLESEX COUNTY
South Amboy - Raritan Bay
OCEAN COUNTY
Barnegat -
Bay Head -
Beachwood -
Brick - Brick Beach
Harvey Cedars -
Lakewood - L
Lavallette -
Mantoloking -
Normandy Beach -
Ocean Gate -
Ortley Beach -
Pt. Pleasant -
Pt. Pleasant Beach -
Seaside Heights -
Seaside Park - 1.
Midway Beach
Island Beach State Park -
Ocean Bathing Pavilion #1
ATLANTIC COUNTY
Atlantic City - Albany Ave
Brigantine -
Longport -
Margate -
Oceanville -
Ventnor -
MONMOUTH COUNTY
Asbury Park -
Atlantic Highlands -
Avon -
Belmar -
Bradley Beach -
Deal -
Philips Ave beach Keansburg -
Keyport -
Long Branch -
Manasquan -
Middletown Twp Leonardo Public Beach North;
Leonardo Public Beach South
Ideal Beach at Ocean Ave
Monmouth Beach -
Ocean Grove -
Sandy Hook -
Sea Bright
Sea Girt -
Spring Lake -
Union Beach -
CAPE MAY COUNTY
Avalon -
Del Haven -
Sunray Beach
Higbee's Beach -
Ocean City -
Sea Isle City -
Strathmere -
Stone Harbor -
Wildwood -

Safety Equipment List
NJBBA recommends anglers carry the following equipment when mobile-sport fishing:
First Aid Kit
Shovel
Snatch Rope or Tow Chain
Road Flares
Jack with Large Support Board
Flash Light
Spare Tire or Equivalent
Self-Contained Toilet (where applicable)
A Coast Guard or I.C.C. Approved Fire Extinguisher
Fishing Columns
Asbury Park Press
Newark Star Ledger
Shore Guide
Delaware River
Delaware River New Jersey Striper Fishing Hot spots
Recreational freshwater striped bass fishing on the Delaware River in New Jersey takes place from the Commodore Barry Bridge (freshwater license line) to the New York state border. Spawning takes place in the lower river up to the Route 1 Bridge in Trenton. Boat anglers dominate the river south of Trenton as it is wide, tidally influenced, and deep. It is believed that the striped bass that continue to migrate farther up river are feeding on a spawning population of river herring and American shad that precede them. Large stripers have been caught in the Delaware River well up into New York State. From Trenton north, wading, shoreline fishing as well as angling from a boat are all used to pursue stripers. Productive striper areas are the Trenton Falls, Lambertville below the wing dam, Phillipsburg area (current and previous state record), Foul Rift in Belvidere and the Delaware Water Gap. Striped bass fishing usually commences around mid - May when many of the fish are caught on surface or swimming lures in fast moving water. As the water warms many anglers switch to live bait and fish the deeper portions of the river. There can be hooking mortality associated with bait fishing as many of the larger striped bass succumb to the high freshwater temperatures and have a tendency to become hooked deeply. The use of circle hooks, which only hooks the fish in the jaw, can significantly reduce mortality.
New York Harbor
Hudson River
Raritan Bay
Striper fishing New Jersey
- Ponds lakes & Reservoirs -
New Jersey Hybrid striper fishing
New Jersey Hybrid striper fishing record
Bill Schmidt
The New Jersey state record Hybrid striper came out of Culver lake in Sussex County
Lake Hopatcong and Spruce Run Reservoir in Northern New Jersey and most recently Manasquan Reservoir in Monmouth County started stocking programs as word got out of the fish's fighting ability.
"It felt as if I was backing down on a tuna," says Bill Schmidt of Branchville, who took a half hour to land the state record 16-pound, 4-ounce hybrid bass two summers ago in Culvers Lake. "It went on six strong runs ... I was just lucky I had my fishing buddy with me to row the boat after it when it took off."
Hybrids need large, clear lakes with deep water and plenty of forage for food. Lakes with an established trout fishery are avoided since both walleye and hybrid stripers prey upon herring and young alewives and it is thought there wouldn't be enough forage to support both species.
They will follow baitfish into shallower water in the cooler months of the year but once the weather turns, they head for cooler water at levels where the water starts to change and seek underwater structure and dropoffs. In the winter, they tend not to hold to structure.
Tim Clancy, the stocking chairman for the Knee Deep Club at Lake Hopatcong, says the club has had a sustained stocking program in effect since 1994. "We've gone from almost nothing to great fishing," Clancy says. "Between the state and the club, we put in about 10,000 fingerlings a year. "Fish in the four- to six-pound range are not uncommon. They are a hearty, robust fish and have established a solid foothold in the lake. We are very pleased with the results of the stocking programs... and so are the fishermen."
Fingerlings in the four- to six-inch range have proved to be the most successful in stocking programs. The target stocking number for each lake is 10 for each acre of water in the lake. "We've stocked hybrids in Hopatcong since 1984 and continue to do so today as a supplement to what the state puts in," Clancy says. "The goal is 25,000 advanced fingerlings a year and, after the state puts in what it can, we try to make up the rest.
"Hybrids have provided some of the most exciting fishing on the lake ... they are the hardest fighter pound-for-pound I've ever come across. Fish from seven to eight pounds are not uncommon. The best time to fish is early morning and dusk ... we've even had them come up and hit top-water lures at night." Hybrids may be caught year round with a creel limit of two 24-inch or longer fish.
Seaside Locations Public Piers and Charter Boats by county
You should note that the latitude/longitude coordinates are expressed here as degrees and minutes
Water Temperature for New Jersey
CENTRAL ATLANTIC SALTWATER COAST
COUNTY
MAJOR RIVER BASIN
Directory of U.S. Charter boats
and web sites
New Jersey Beach Access
There is really only one beach access spot for the general public in New jersey. And that is island beach state park. All others require residency to access via beach buggy.
Island Beach State park near barnegat is open to the Public for buggy access. Fees are collected to access.
ISLAND BEACH STATE PARK:
§ Dates of operation: From weekend of May 16 to first Sunday in October, buggy operation is limited to Gillikens and the area from A-7 south. The park is closed from midnight to 4 AM, but beach buggy permit fees will be permitted to stay in the park 24 hours per day providing that during this period they actively fish or park in a designated location.
§ Permit fee: Yearly fee is $195 for buggy and driver payable by cash, personal check, or credit card. 72-hour buggy permit is $50, which includes driver. The total number of 72-hour permits will be limited to 50 at any one time and may not be renewed for more than one consecutive 72-hour period. $50 yearly fee for statewide state park pass is good for unlimited walk-on fishing as well.
§ Permit obtained from: Gatehouse.
§ Beach access points: Areas of buggy operation include the area from Gilliken's south to the inlet. No buggy operation is allowed north of Gilliken's although walk-on fishermen may fish this area through specified access points. There are three marked access points to the beach. Gilliken's, A-7, and A-23 for buggies.
§ Parking lots available at: Parking is limited to two lots and no parking is allowed along the side of the main road.
Atlantic City and Brigantine Gotbass Charters
Surfcasting clubs and organizations in NJ - New Jersey Surfcasting Clubs
Asbury Park Fishing Club
Asbury Park, NJ
The oldest saltwater fishing club in the US Est 1888
The Jersey Shore Surfcasters
by Referral
Shark River Surf Anglers
Belmar New Jersey
High Mar Striper Club
Sandy Hook N.J.
Berkely Striper Club
Seaside Park, N.J.
Hudson River Fishermens association
Ridgefield Park, New Jersey
Spring Lake Live Liners
Founded in 1977 Sea Girt, N.J.
South Jersey Squid Hounds
Founded by Danny Dandorf and Doydt Ladd in the early 1950's.
Ocean City Fishing Club
14th Street & The Boardwalk Ocean City N.J. Established in 1913
Is the oldest continuously operated fishing club in the country
Bradley Beach Surf Casters Inc
Post Office box 601, Neptune, New Jersey 07753
State Striper fishing records
Strategies and Tips
Striper Guides
Striper Fishing News
Striper Record Pictures
Length to weight chart