Discussion Starter
·
#1
·
I haven't posted this here in a while. It has been a good season so I thought I'd share the life of a Bayman.
05-13-14
Bugs and Bass 2014 has started.
Lobsta' Bait
Good run last evening. When I saw the flocks of seagulls and cormorants arrive I knew something was going to happen. Got a tote limit in about an hour. Six foot cast net. That will do half the summer.
Boat is in the driveway. Now I have incentive to launch and trap. Tentative
splash date Memorial Day Weekend.
05-19-14
You can net on Mondays. Was at the falls at 0430. Home and in the shower by 0530.
Pulled the basket about a dozen times. I can taste the lobsters now.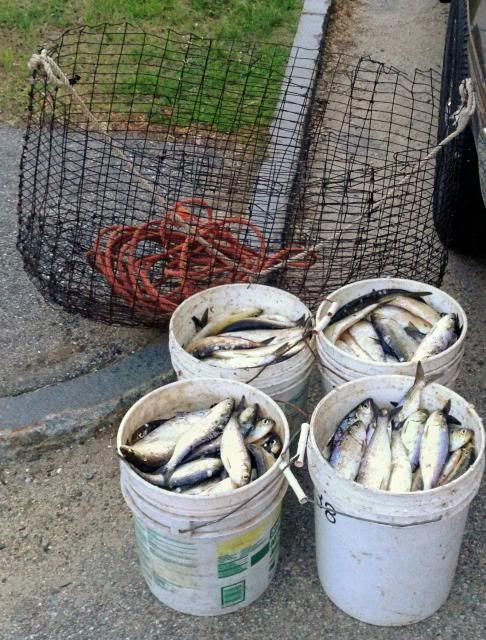 05-30-14
You can't have a successful Bugs and Bass season without bait. Splashed the USS Coalman at high tide. Joe came down to the dock to go out and look for spawning horseshoe crabs for our eel bait. He said it has been pretty slow so far this year. I accompanied him and it seems to be heating up.
We are allowed ten per day with our netters permit. Now we have some eel bait. Bring on Bugs and Bass 2014.