·
Reports and Info Dude, Got a Little Captain in yo
Discussion Starter
·
#1
·
What is a herring?
Herring feed at night in the upper water column, following the massive vertical migrations of zooplankton that inhabit deep waters by day and surface waters by night. Research has shown that herring feed on zooplankton in several ways. Much like the way a whale strains zooplankton from the water with its baleen plates, herring are able to use their gill rakers to filter-feed. Herring can also visually detect larger prey, such as an individual copepod or a mysid shrimp, and execute directed attacks on these targets.
Certainly it is no exaggeration to call it (Calanus finmarchicus) the most important single planktonic animal, probably more important in the gulf in its relation to both larger and smaller organisms than all other copepods combined. It is the basic food for the local mackerel, and is certainly a major article in the diet of herring, alewife, and shad while these are at sea.
The
copepod
is vital to the success of Atlantic herring populations. Atlantic herring time their migrations around the presence of this copepod. The herring are dependent on these food sources to such a degree that herring scientists have proposed that information on prey species may provide a method to predict the location of herring stocks.
Alewife and Blueback Herring
Alosa pseudoharengus and Alosa aestivalis
(A.K.A. - River Herring, Alewives)
Key Distinguishing Markings:
http://www.dnr.state.md.us/fisheries/fishfacts/herring.asp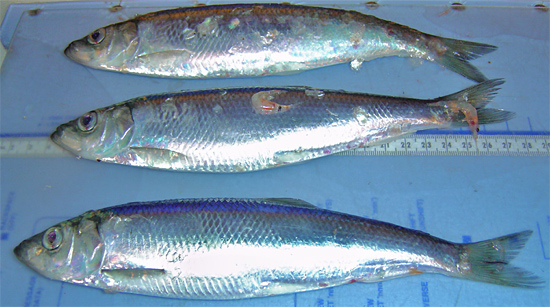 To test whether they could use low-frequency sonar to identify fish, the scientists
targeted schools of Atlantic herring in deep water over Georges Bank.
(Photo courtesy of Tim Stanton, Woods Hole Oceanographic Institution)