Discussion Starter
·
#1
·
Took the day off from work to get out with my dad for some stripahs. We ended up getting out a little after noon. On the run upriver to pick up bait, the console mounted fish finder transducer decided to free itself from the stern and its wire:dizzy: not a good way to start.
Ended up getting our bait in about 5 minutes. Being late in the season, we figured we would drift the end of the outgoing. Drifted a good 6 miles of water without nary a hit. By then the tide had started turning so we headed downriver to another stretch and drifted that a few times without a hit. By now its starting to get later in the day, and the tide is starting to come in strong. We figured what the heck, and ran even further downriver, looking for some anchoring spots that weren't getting beat.
We ended up finding a solid current break adjacent to a nice big flat. We anchored right on the break, cut up and chummed a few of the dead herrining for about 1/2 hour without a hit. We did see some spawning activity on the flat downcurrent from us. We pulled up anchor and drifted over to the area of the splashing. Re-anchored, and no more did I set my cut bait rod down after chucking it up on the flat, and I had a good run. Set the hook, and well I'll be darned it was a striper! Not a monster, but I'll take it.
Get the fish unhooked, photo'd, and back in the water. The catfish came in after that. Got a bunch of small channel cats, and then my father's chunk rod had a screaming run. Good fight, and another male. this one loved my dad though. It treated his shoe like an amusement park:lff3: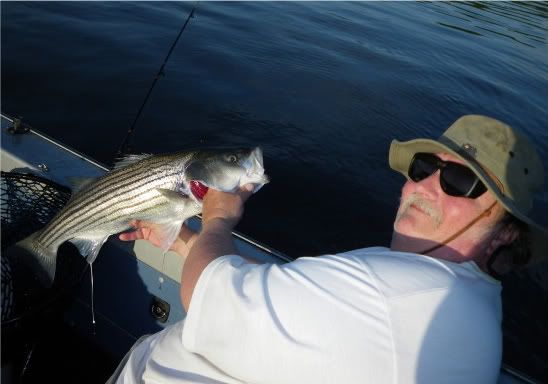 After that it was time to head back to the Schodack launch before they locked us in.