by Frank Ruczynski
Before each season begins, I make a small to-do list to expand my experiences and knowledge in the great sport of fishing. Besides the normal goals of 50-pound striped bass and 10-pound largemouth bass, I throw in some new techniques and species to expand my horizons. This year there were two things at the top of my list: kayak fishing in saltwater and catching snakeheads. The saltwater-kayak trips were checked off the list months ago with more than a few back-bay trips and a surf launch under my belt. It's time to talk snakeheads.
Like most anglers, I heard the rumors about the invasive northern snakeheads in some of our local waters, so I felt like it was time for me to find out what these so-called "frankenfish" were all about. Before my first trip, I did some research and found lots of interesting information. Much to my surprise, many of the rumors turned out to be true. Northern snakeheads are a freshwater species native to China, Korea, and Russia. They can reach 40 inches in length or better and are obligate air breathers – they must breath air or they will suffocate. Snakeheads have an impressive set of teeth and feed mostly on other fish, frogs, and on occasion, small animals such as rats and young birds. Parent fish are extremely aggressive and have been known to sacrifice themselves to protect their young. Snakeheads can live on land for up to four days, provided they are wet and they've been known to wriggle their bodies and fins or "walk" as far a quarter mile!
Dead snakehead
With my interests peaked, I made my way to one of the more well-known snakehead areas along Little Mantua Creek. Upon my arrival, I ran into another angler and asked a bunch of questions. I didn't get much useful information other than, "You'll see 'em all over out there." I headed to the water and was greeted by snakeheads milling about in open water. I couldn't believe what I was seeing, they were all over! I dropped my gear and started casting at them.
About an hour later, my high hopes were quickly dashed as cast after cast came back untouched; there's nothing more frustrating than seeing fish that you can't catch. On more than one occasion, I watched as snakeheads jumped out of the water and onto the rocks beneath me. I couldn't help but to question everything I read about these incredibly aggressive fish; why weren't they attacking my baits? After a few frustrating hours, I returned to my car with my tail between my legs.
Luke Dautel with one of many he caught back in early June
That evening, I read so much about snakeheads my head was spinning. Everything I read seemed to contradict what I had experienced out on the water. According to the experts, snakeheads preferred slow-moving waters surrounded by lily pads or other types of structure. The particular area I was fishing had heavy current and little-to-no structure, but the snakeheads were all over. I had a hard time sleeping that night, but I would be back again to try in the morning.
The next morning, I packed every lure I could think of into my bag and returned for round two. Once I settled back at the water's edge, I could see snakeheads jumping in the current, coming up for air, and swimming back and forth in front of me. I started with buzz-baits and top-water lures, but the snakeheads seemed to be spooked by my offerings. I switched lures a bunch of times before I finally had a hit on a Blue Fox Vibrax spinner. I missed the hit and tossed that spinner for another hour before trying my old standby, a Zoom Super Fluke. Minutes later, I had a solid swipe, hooked up, and after a spirited battle, I landed my first snakehead.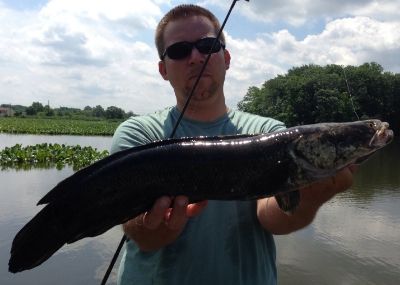 First snakehead
It wasn't easy, but I killed the snakehead as instructed by New Jersey's Fish and Wildlife regulations. It was the first time I killed a fish just to kill it. Eating the fish is not a viable option as I won't eat fish from those waterways and I don't know anyone that will. I've caught a handful of snakeheads over the last few weeks and although I've killed each one, it's becoming a little more difficult with every catch. At first, killing the fish was an easy decision, but the more I learn about these so-called "frankenfish" the more I'm beginning to appreciate them.
Lots of snakeheads die on these rocks
I spoke with the Division's principal fisheries biologist, Chris Smith, and was told to keep killing the snakeheads as they're quickly reproducing and expanding their range. Snakehead catch reports are increasing substantially along the Delaware River tributaries, especially from Salem to Trenton. Their range also seems to be moving east as Chris passed along information about a snakehead reported at the Harrisonville Lake spillway. When I asked Chris about the Division's plans concerning snakeheads, he said there wasn't much the state could do other than rely on anglers to keep them in check.
In the last few weeks, I covered lots of ground and to my surprise I found snakeheads in almost every body of water I explored. Even in the muddiest of water, they are easy to spot because they have to come up for air. With a noted aggressive nature, I found their behavior questionable most of the time. I still have so many questions to answer: maybe their behavior has something to do with the tremendous amount of rain we've had this month? Were they spawning? Maybe they just aren't that easy to catch?
Snakeheads live here
Indeed, I have much to learn about snakeheads, but I'm starting to believe the hype has more bark than bite. I fished some very hard-to-get-to waters and watched as snakeheads, largemouth bass, sunfish, carp, and small baitfish seemed to live in harmony. The one thing I can tell you for sure is that I've enjoyed fishing for snakeheads and they are a blast once you get them to take the hook. For better or worse, I have a feeling these fish are here to stay.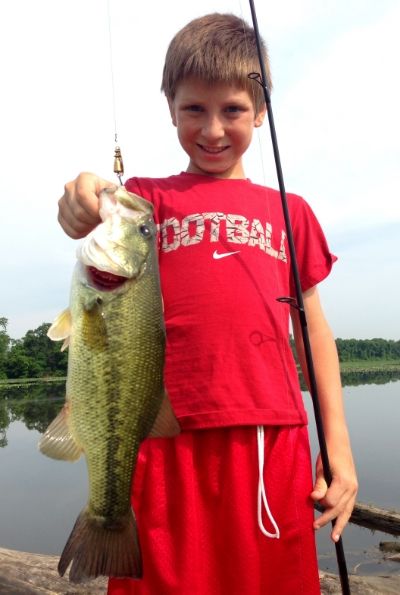 Jake with a decent tidewater largemouth bass