by Frank Ruczynski
It's a great time of year to get the family down to the beach. Daytime air temperatures are hovering around 75 degrees and the water temperature is close to the same. A baited hook isn't safe anywhere: the back-bay sounds, inlets, and ocean front are full of life!
After a long summer of freshwater fishing, I'm finally settling back into my regularly-scheduled night fishing routine and I haven't been disappointed. Schools of bait seem to be everywhere and there's been no shortage of weakfish, bluefish, summer flounder, or small striped bass. The weakfish action has been nothing short of amazing. All of my old weakfish holes are holding good numbers of 12 to 24-inch fish and we're even finding some weakies in places we never caught them before.
Fresh Weakfish Fillets
On the way home from one of our night-shift weakfish trips, my buddy, Dave, and I talked about getting our boys down to get in on the fun. A midnight trip would likely be frowned upon by their moms so we planned an all-day crabbing/fishing trip. We talked about these kinds of trips before, but this time we were going to make it happen.
On Saturday, Dave showed up at my house at 6AM; we packed up and headed for Stone Harbor. My son, Jake and Dave's son, Nate, were full of excitement and ready to go. On the way down, we visited The Girls Place for some fresh bunker and made a quick stop at Wawa for some snacks. We arrived at the pier around 7AM and immediately rigged up our crab traps.
One by one, we baited the cages with half of a fresh bunker and lowered them into the water. Dave showed me a little trick to keep the bunker attached to the cage. He used wire ties to fasten the bait to the cage. Two slits were cut into each bunker and then a wire tie was passed through each slit and fastened to the bottom of the cage. The baits stayed in place and lasted us the entire trip. The wire ties were extremely efficient; it was a great tip that I will surely remember on future trips.
Before long, the boys put their first keeper in the basket and we had a slow pick of small and keeper-sized crabs. Action started a little slow, probably because the proximity of high tide created very little water current. We could see the boys needed a little pick-me-up so Dave grabbed the cast net and started catching some small fish to keep them interested.
Little Boys with some Big Crabs
By the time they were done with the cast net, the water started moving out and the crabs were on the move. The boys had their hands full as they had a dozen cages to attend to. Besides crabs, they pulled up all kinds of things in the cages: tons of 4 to 6-inch spot, a handful of small sea bass, three juvenile black drumfish, a pair of oyster crackers, and a small fluke. The morning flew by and it was lunchtime before we knew it. We ended our morning crabbing trip with a little over two-dozen large blue claws and some big smiles.
A Great Morning
As you might imagine, we worked up quite an appetite so we headed up to Avalon to grab lunch at Brady's Hoagie Dock – Home of the Humongous Hoagie. I pass this place all the time on my overnight fishing trips and that humongous hoagie sign gets me every time. It was nice to finally be in the area during normal business hours. The service and sandwiches were great. I just wish I could have talked them into staying open for our late-night trips.
On the way to North Wildwood, we stopped at a few back bay and inlet areas to cast net some mullet, but we couldn't find any in the perennial hot spots; I'm sure low tide wasn't helping our efforts much either. After a quick stop to Jersey Bait and Tackle for some bloodworms and mullet, we headed for Hereford Inlet.
When we pulled up to seawall, I was surprised to see so many people fishing. After a minute of observation, I could see why it was so crowded, everyone was hooked up! No one was catching any large fish, but spot, kingfish, bluefish, blowfish, and summer flounder were keeping rods bent.
We rigged up and didn't waste any time getting in on the action. The boys didn't have to wait long before they were reeling in some nice-sized kingfish. Those bait-stealing spot made it tough to fish for anything else as they hit our bloodworm baits as soon as they hit the water. We threw out some cut mullet and the bluefish were all over it. A few minutes later, Dave and Nate found a school of hungry flatties right in the wash.
Nate with a Feisty Flatfish
As the sun was setting, I took a few minutes to soak it all in. I couldn't help but think about how lucky I was to be in this place sharing these experiences with my family and friends. It was certainly much more memorable than an afternoon at the park or in some movie theater. To me, this is what fishing is all about!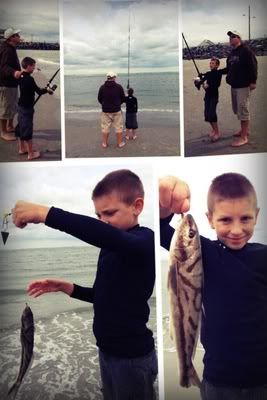 A Day We Will Never Forget