I've spent the last twenty-five years chasing the fish that swim in our local waters and I've enjoyed every minute of it! During that time, I've made some remarkable friends and together we've learned a great deal by spending loads of time on the water.
Recent Comments
Categories
Recent Posts
Archives
September 05, 2016
Back to School Doesn't Mean Kids Have to Stop Fishing
by Frank Ruczynski
I can almost hear the buses rolling down the road. In our neighborhood, school starts in two days on Tuesday, September 6. Our kids will be back to the daily grind of getting up early, shuffling from class to class and coming home with plenty of homework. Sounds like fun right? Not to me, I dreaded the first day of school. As a boy, I was always outside; I played sports, fished or hunted until I needed to eat or sleep. After a summer of outdoor fun, I felt like going back to school was the equivalent of a nine-month jail sentence.
According to today's youth, most schools are much more user friendly. It seems like many of the "walls" have been broken down over the years – for better or worse. Sadly, it seems like time spent outdoors is not high on list of most educational institutions. I'm not sure why administrators don't put more emphasis on learning outside of the school building – perhaps a few more walls still need to be broken down?
Fortunately, there are a few programs that offer outdoor learning to children (and adults in some cases) outside of school buildings. Our community offers programs such as guided nature walks, kids fishing contest, bird walks, kayaking and canoeing trips, Nature Tots program, Hooked on Fishing – Not On Drugs (HOFNOD) meetings and a bunch of other free outdoor learning experiences.
Over the years, my family enjoyed many of the community-based outdoor programs. I grew up on Wilson Lake which in now usually referred to as Scotland Run Park. The cedar-lined lake is a great place to cast a line, view wildlife, kayak and learn about the outdoors. Jill Taylor, the Senior Park Naturalist, can usually be found in the Nature Center and is a wealth of information. If you're wondering if your community has similar opportunities, try contacting your county's Park and Recreation Committee.
Last weekend, I had the pleasure of attending a Hooked On Fishing – Not On Drugs Kids Fishing Tournament at Corson Park in Millville, NJ. The contest was open to a couple of local HOFNOD groups and the public. Joe Haase leads one of the groups and planned on stocking and tagging some fish before the big event. I met Joe a couple of years ago at a HOFNOD training class – he's a great guy and is always looking for new and exciting ways to keep the kids interested in outdoor learning activities.
The fish stocking and tagging went off without a hitch. In just a few minutes, the kids and adult volunteers had the fish tagging process down to a science. I worked the camera as the group completed tagging and stocking the fish into the lake with machine-like efficacy. I was thoroughly impressed by the entire process. Even the younger kids seemed incredibly capable.
A Tagged Sunfish Ready for Release
Soon after the fish were released, the fishing tournament started. The kids went all in and fished hard for a solid two hours. I walked around the lake and watched as families fished together, kids helped each other out and everyone caught fish. It was a beautiful day and everyone seemed to have a great time. During the two-hour tournament, I didn't see one child lose interest in fishing. This morning was full of sunshine, fish and smiles!
After the final horn, the kids met up and had lunch. Hot dogs, chips and water bottles were given out to each participate and their families. Winners were announced and given tackle boxes, trophies and rod and reel combos. I was especially proud of my own son, Jake, as he caught a ton of fish and helped out with the younger anglers.
That's My Boy!
Having experienced this event first hand made me want to start my own group even more. My wife and I have gone back and forth with some ideas, but it's not easy to get things off the ground. I have a great respect for people like Joe Haase – he put a lot of blood, sweat and tears into his group and asks for nothing in return. The kids had a great time because a few big-hearted adults volunteered their time to make it happen - these people are an asset to our community.
If you're looking for something to do with your kids this weekend, I'd like to suggest a visit to New Jersey's Annual Wild Outdoor Expo. The big event is happening this Saturday and Sunday, September 10 and 11 from 10 AM to 5 PM – rain or shine. Admission and parking are FREE! Some of the activities include: fishing, kayaking, shooting sports, camping skills, hiking, rock climbing, compass navigation and wildlife watching. Programs will include fish and wildlife conservation, reptile and raptors, sporting and tracking dogs, historical reenactments, SCUBA dives, nature photography and much more. It sounds like a great way for our kids to unwind after their first week back in the big house.
March 13, 2014
Hooked on Fishing - Not on Drugs
by Frank Ruczynski
The spring season is just days away and we're already riding the weather roller-coaster. Yesterday, I was fishing along the banks of a local lake in shorts and a T-shirt. This morning, I woke up to a power outage, house-shaking wind, and an air temperature of 22 degrees. After a long, cold winter, I'm not going to complain about ups and downs; at least we have some ups now, right? The weekend forecast looks promising and the fish are biting!
I'll get to the fishing report a little later, but first, I'd like to share some information about the Hooked on Fishing - Not on Drugs Program. If you've never heard of the Hooked on Fishing - Not on Drugs Program (HOFNOD), it is a nationally-recognized program created by the Future Fisherman Foundation. This worthwhile program has been around for twenty years, but has recently been updated. The curriculum uses angling to teach our youth about the benefits of a healthy lifestyle and how to deal with life's daily challenges. The HOFNOD network includes trained-aquatic-education professionals in over thirty states with thousands of programs nationwide.
Jake is hooked on fishing!
The state of New Jersey seems to be jumping into the revamped program with both feet. Some of you may find this hard to believe, but it appears the state is putting at least a little of our tax dollars to good use. HOFNOD programs are popping up all over and I think the kids are going to love it!
The kids loved these cupcakes!
My son, Jake, and I had the pleasure of attending a Hooked on Fishing – Not on Drugs orientation meeting last Saturday at Lake Mathilde in Sicklerville, NJ. The Gloucester Township-based program is run by Bob Johnston and he's put together an impressive twenty-eight week course highlighted by field trips including: kayaking on Barnegat Bay, fishing on the Bodacious, overnight camping, and a group bus trip to Bay Day. Sounds like fun and get this: the program is free!
Is someone telling fish stories?
During the orientation, we met lots of great kids and friendly adults. Bob did an excellent job preparing the grounds and curriculum. While the kids walked along the wooded paths and looked over the mostly-frozen lake, I took the opportunity to talk with the state-appointed HOFNOD Coordinator, Liz Jackson. We talked about the program for a while and the more I heard, the more I liked the program. There are no strings: the purpose of the program is to get kids back outside and to keep them away from tobacco products, alcohol, and drugs.
An ice-covered Lake Mathilde
I have many passions, but my family and outdoor activities are tops on the list. If I can incorporate the two, I will, and I'm going to love every minute of it. While some of us may not need a program to enjoy time outdoors with our loved ones, there are lots of kids that don't have the same opportunities. If you'd like to help, please contact Liz Jackson at (908)637-4125 x122
[email protected]
OK, back to fishing! It seems like a little sunshine was enough to get some fish moving. Reports are far from on fire, but the season's first few striped bass were taken over the weekend. The warm-water outflow and tributary rivers are always early-season hot spots. If you're just looking for action, I suggest grabbing some grass shrimp or bloodworms and trying for white perch. The perch bite seems like the best thing going and it only takes a few perch to make a tasty dinner. Look for the striped bass action to pick up near the end of the month. I'm sure I'll be poking around soon.
They're here!
I haven't hit the salt yet, but I did get to spend the last few days fishing the neighborhood lakes and ponds. Even though it's been warm, ice is still covering a few of the backwoods ponds, but most of the larger bodies of water are open. It sure did feel good to soak up some sun and bend the rod again. Chain pickerel are on full tilt and waiting for just about anything to cross their path. If you can get minnows, expect some easy fishing. Some of the largest bass are taken in March, so get out there this weekend; it was a long winter and the fish are hungry!
3/12/14 Pickerel
June 01, 2012
by Frank Ruczynski
At first, I thought it was just me, but after looking at the regional fishing reports, I think it's safe to say that most of the big, spring stripers have pulled out of our local waterways and are heading north for cooler waters. Reports from Cape May to Ocean City have slowed down considerably over the last few days. At the same time, some remarkable catches have been made a little to the north around Long Beach Island. The long-range weather forecast is calling for spring-like air temperatures, so let's hope those big girls hang around LBI for a couple of weeks; I'm not ready to give up on them yet!
Our back-bay waters also appear to be making the transition to the summer season. Striped bass and herring seem to be thinning out a little more on each trip, while snapper bluefish are invading the inlets and wreaking havoc in the skinny waters. Regional water temperatures are well-above normal and surely play a big role in my recent observations.
Current Water Temperatures
Before the holiday weekend, some monster bass were caught on the Cape May beaches and between Ocean City and Atlantic City. The Cape May bite was best during the incoming tides and especially good towards slack tide; fresh clams continue to be the choice bait along the beachfront. The striper bite in the OC to AC area took place at night and lots of big fish were caught on plugs. Since the weekend, things have quieted down. I'm hoping that the full moon (Monday, June 4) tide stages will spark the bite again.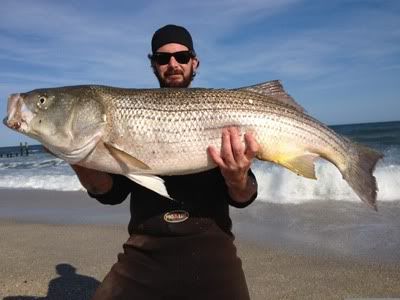 Rob Woolfort with a Beauty from Cape May
I had quite a streak of fishing time going on until about two weeks ago. It started last fall with that incredible run of striped bass off of Island Beach State Park and continued right through the winter months. By mid-January I fell into some great freshwater-fishing action. Between the great sweetwater action and an early start to the 2012 striper season, I just couldn't get enough. I felt like I was making all the right decisions and scoring great catches on just about every trip. I guess it couldn't last forever.
Good Times!
Like many other anglers, I read the reports and use them as a barometer of the general fishing action for a particular area. I usually do my own thing and find that it's the best way to go, however there are times when the big fish reports get to me and I join the masses at the perennial hot spots. Between the fishing message boards and the never-ending newsfeed on my Facebook account, my backwater 30+ inch bass and spring weakfish eventually get trumped by 30 to 50-pound striped bass. You would think surf fishing for 30 to 50-pound bass would take precedence over everything else, but not for me. I prefer to catch monster tiderunner weakfish, however after years of catching 10 to 15-pound weakfish, the 12 to 24-inch fish just don't seem to bring me the same joy. Don't get me wrong, I still love being out there and fishing for tiderunner weakfish and I think it's great that we're seeing good numbers of smaller weakies, but it's just not like those glory days. Throw in a passion for backwater doormat fluke, plugging the rock piles and sod banks, and freshwater fishing for bass and trout and it's tough to squeeze it all into about a month's worth of fishing time.
As it turns out, I tried to do it all and fell into a bit of a slump. It started at my local lake when I lost an absolute giant largemouth bass right at my feet. Since then, I've been catching fish here and there, but I've made a bunch of poor decisions and with some of the largest striped bass of the season around, the timing couldn't have been much worse. I've fished long enough to know that it happens to everyone from time to time. I'm sure when I think back about the last six-months of great fishing, my two-week slump won't seem like such a big deal.
Lost a Good One
It's a big weekend in South Jersey for outdoor enthusiasts. The 20th Annual Delaware Bay Day will take place from noon – 9 PM at Bivalve on Saturday, June 2. The Bayshore Discovery Project and the township are inviting everyone to come out for food, fun, and a shared appreciation of South Jersey's maritime and natural heritage. I take the family every year and we always have a good time. My little one loves the blue-claw crab races!
http://www.nj.com/cumberland/index.ssf/2012/05/bay_day_brings_back_fireworks.html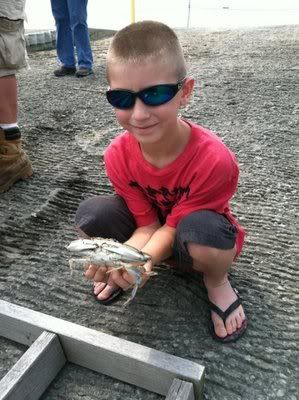 Jake's Ready for the Crab Races
On Sunday, June 3 Scotland Run Park will host the 15th Annual Gloucester County Water Fest. The festivities will begin at 11 AM and wrap up by 4 PM. Entry to the fair is free and offers The Wild World of Animals Show, music, exhibits, crafts, and food. We never miss any of the events at the park. Free face painting, kayaking, and canoeing should make for a great day!
http://www.co.gloucester.nj.us/news/displaynews.asp?NewsID=1069&TargetID=1,2,3,4,5,6,7,8,8,9,9,0,0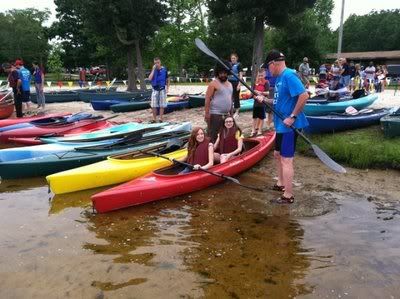 Water Fest Kayaking and Canoeing