by Frank Ruczynski
The month of September marks the end of the summer season and the beginning of autumn. Sweltering days spent sunbathing on the beach, attending family cookouts, and lounging by the pool quickly transitioned into early mornings on the school bus, hayrides, football games, and cool fall nights.
Back to School
Our three children started school last week. My oldest son, Frankie, just started college – boy, do I feel old! Julia is a sophomore in high school and Jake is enjoying his last year at the little, elementary school down the street.
I was privileged to spend much of the summer with our kids at the lake so they asked how I'd be spending my free time while they were attending school. I told them that I was going back to school, too! Of course, they looked at me like I had three eyes. I went on to explain that my school was about an hour away from home and I wouldn't need any teachers or text books: my school could be found along the coastal waters that surround Southern New Jersey and I had much to learn.
Weakies Gone Wild
My first class was up in Barnegat Bay where I had a weakfish assignment to complete. Fortunately, I'm very familiar with the waters and had a good plan to start my first day back on the right track. A stop at some hard structure looked promising as schools of bait fish were under attack. Usually, when I come across this type of visual activity, snapper bluefish will be feeding on the surface while weakfish, striped bass, and summer flounder can be found a little closer to the bottom. As luck would have it, I hooked into a beautiful 15-inch weakfish on my second cast. A buddy and I continued to work the area over with 3-inch Berkley Gulp baits attached to a 1/4-ounce jigs. We had a blast catching weakies in the 12 to 22-inch range as the bite continued well into the night. If this trip was a test, I aced it!
Midnight Madness
We returned to the same location over the next few nights and found similar results each time. Feeling confident that we could catch fish, we branched out a little more into Barnegat Bay to see if the weakfish were as thick as we suspected. A few stops along unfamiliar areas revealed that the weakfish were thick all over the bay: each location was choked with bait and hoards of spike weakfish, along with school striped bass, snapper bluefish, and undersized fluke. In my opinion, the bay looks as healthy as I've ever seen it and the weakfish numbers seem to rival those of the old glory days.
Dave McKinney with a Barnegat Bay Beauty
After a day off to catch up on sleep, my next class was scheduled a little further south to see how the fishing action was behind Seven-Mile Island. At first sight, I knew we would be just as pleased as we were during our Barnegat Bay trips. Enormous schools of peanut bunker were churning water in what seemed like every direction. Bluefish worked the top of the water column while 12 to 20-inch weakfish waited below and eagerly attacked our jigs. Hungry, spike weakfish seem to be just about everywhere now and I'm captivated by the potential of the fishery. After years of decline, it's great to see good numbers of weakfish again!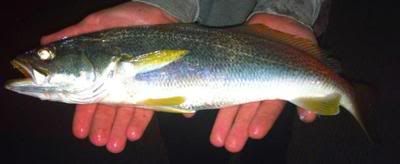 They're Back!
I learned much over the last few days, much more than I could have in any classroom. The weakfish bite is far better than I could have possibly imagined. Small 3-inch baits received much more attention than my old-standby, 5-inch, soft-plastic baits. The outgoing tide seems to produce a little more action at most locations and the weakfish bite was a little more subtle during the new moon phase. Massive schools of bait fish should keep plenty of fish around over the next few weeks and make for an action-packed fall run. Why couldn't school be this much fun?