by Frank Ruczynski
They're back! Weakfish are popping up all over: reports of 3 to 6-pound weakfish are making headlines along much of the northeast coast. The numbers and sizes of fish may not compare to the glory days, but there are certainly more weakfish around than we've seen in the last few years. Most anglers targeting weakfish are catching them in impressive numbers, while others are pleasantly surprised by weakfish at the end of their lines when fishing for striped bass, bluefish, or summer flounder. Let's hope this is just the beginning of a tremendous success story similar to what we've witnessed with the striped bass years ago.
The Glory Days
I don't know where to start. Ok here we go: my name is Frank Ruczynski and I'm a weakfish junkie. I do crazy things that most "normal" people would never dream of in order to catch "a fish." My wife and kids know that I'm not quite right, but even more so during the month of May - they've learned to deal with it; God bless them. Thoughts of tackle-testing tiderunners and a serious case of sleep deprivation often make it difficult for me to concentrate on much else; it took an unbelievable amount of willpower to stay in today so I could catch up on household responsibilities and my blog. During the little bit of sleep I receive, I often wake up to a hook-setting jolt. Once I realize the bite I just set the hook on was just a dream, I'm disappointed and usually can't get back to sleep. To most people it's just "a fish," but fishing for weakfish is one of the things I enjoy most on the planet.
Twenty years ago, when I first started fishing, those fanged-backwater beauties were abundant. I guess you could say weakfish taught me how to fish. In those days, tiderunner weakfish were the talk of the town as striped bass were talked about in a past tense only. At that time, a 10-pound tiderunner was the mark that most of us aimed for, however as the years passed our expectations went up as we continued to catch larger and larger weakfish.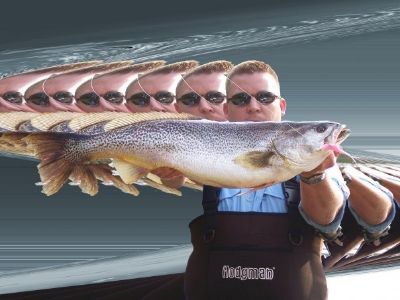 Not Long Ago, Weakfish Like This Were Caught Every Spring
Since then, we've watched the population crash as those great year classes expired. We'd have some hope as schools of spike weakfish would show up here and there in the late summer/early fall season, but the action was sporadic at best.
Recently, we've seen lots of promising signs. It started a few years ago when we were tossing our cast nets for mullet and peanut bunker, but came up with tons of 4 to 6-inch weakies. The next season, we had a nice run of 12 to 16-weakfish. Last spring, we saw a fair amount of weakfish with many in the 18 to 22-inch class. The fall was amazing as we had tremendous numbers of 2 to 4-pound weakfish until Superstorm Sandy put an end to the fun. So the spring push of weakfish isn't much of a surprise, but it sure is welcome. With stories of the striped bass demise, I watched the weakfish dwindle with my own eyes, and storms like Sandy hitting our coast, I take nothing for granted. Enjoy the great fishing while you can!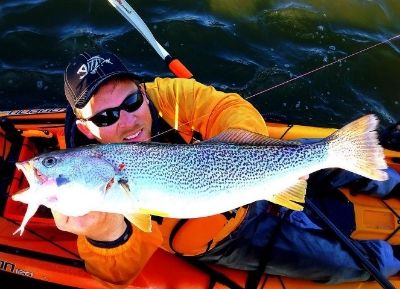 They're Back and Getting Bigger!
This season, I've mixed two of the things I love the most together: spending time on my kayak and fishing for weakfish. I'm still fairly new to the whole kayak scene as I've spent most of the last two seasons floating in the sweetwater. What can I say? I'm like an old boy scout, I like to be prepared. With plenty of freshwater kayaking experiences under my belt, I felt the time was right to get the little plastic boat salty. I've been out a bunch in the last two weeks with great results.
On my first time out, I had one of the best weakfish action trips in years. Everything went according to plan, even with east winds blowing at close to 20 mph. The current wasn't nearly as bad as I expected and I was extremely comfortable on my Wilderness Systems Tarpon 120. I caught over 20 weakfish and went home with a smile from ear to ear.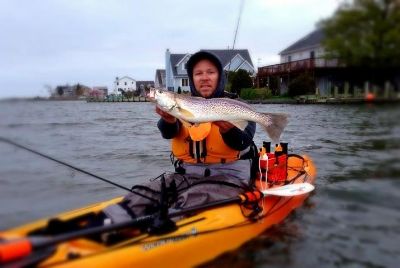 Kayak Weakfish
Return trips haven't been as good as my first trip, but I haven't come home disappointed yet. I've been fishing early mornings, but I think I'm ready for a night trip soon. Most of the weakfish are in the 20 to 24-inch range, but I had a bunch up to 26 inches and one the other day that was pushing 30 inches. With striped bass, bluefish, and summer flounder thrown in, I feel like I've died and gone to heaven.
My Little Piece of Heaven
None of my close friends have kayak fever yet, but I have a feeling it's only a matter of time. Fortunately, I met up with a bunch of good guys on my last few trips. Dan Tholen from Lacy Marine has been a pleasure to fish with and seems to have this kayak thing down to a science. The early-morning kayak crew sure seems much more pleasant than some of my old, bridge-running acquaintances.
I'm stuck in weakfish gear, but there are lots of other great fishing opportunities to take advantage of now. The striped bass run is picking up and should pop just about any day now. Just in the last few days, I've heard reports of a number of big linesiders out front between Cape May and Long Beach Island. Bluefish seem to be just about everywhere as do an incredible amount of blowfish. Yes, I said blowfish; they are invading our waterways and are pretty good at stealing bait. Let's not forget that summer flounder season kicks off this Saturday, May 18th. Maybe I'll pull myself away from the weakies for a few days; fresh fluke fillets sure sound tasty.
Preseason Fluke