by Frank Ruczynski
I woke up this morning and flipped the page on my calendar; it's hard to believe that we're just entering the month of April. Since my last blog entry, I've logged a ton of hours on the water and lipped quite a few striped bass. Friends and family have joined in the fun and we've already had some memorable trips. I feel like we're halfway through the spring-fishing season, when in reality it's only just begun!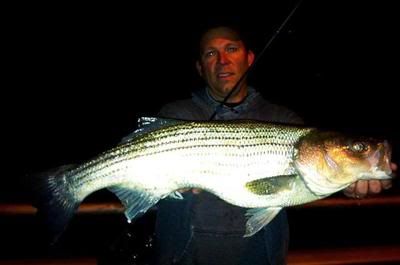 Over the last two weeks, the fishing action has really picked up. Local anglers are catching good numbers of striped bass in the back bays, rivers, inlets, and out front in the surf. Action has been far from consistent, but we're still well ahead of schedule.
Believe it or not striped bass aren't the only game in town. Bluefish and summer flounder are here and they're hungry. Bluefish showed up out front last week and a few have pushed into the backwaters over the last few days. Summer flounder invaded the inlets about a week ago and seem to be around in good numbers, especially at the perennial early-season hot spots. A good friend has been nailing flatties behind Seven-Mile Island all week while tossing jigs for striped bass. I saw my first flatfish the other night when my buddy, Rob, landed one while we were fishing for stripers; if they're biting at night, you know they're aggressive. May 5 seems so far away!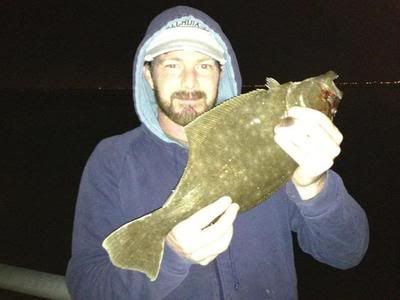 My buddies and I have been spending a great deal of time fishing in the shallow backwaters. Even though we've managed to put together some good catches, finding any type of pattern has been difficult. Things were just about to get interesting when adult bunker moved into the Great Egg Harbor Bay last week and then a strong cold front with gusty northwest winds sent them packing. Just when we begin to think that we've got the bite figured out, the fish throw us a changeup.
The nightshift bass bite has been productive, although most of the fish have been on the short-side of the 28-inch-legal-size limit. We've been tossing soft-plastic baits on ¼ to ½-ounce jig heads with good results. One night, the fish will be blowing up on grass shrimp and spearing and inhaling our soft-plastic baits and the next they're on the bottom and only halfheartedly striking our jigs. While it seems that we can't keep a bite at one location for more than a night or two, I have noticed that our best action usually takes place on either side of high water.
I've had my fun with the little fish, but it's time to switch gears. It's time to start chasing some better fish. The bite on the Delaware River is picking up and the big girls are moving in to do their thing. This week, I'll dust off the big rods and make a trip to my river hot spots. After a few trips tossing bloodworms along the riverbanks, I'll switch over to chunking bunker and clams along the bay shores and down around Cape May Point. By month's end, I'll be back out front looking for bass busting on bunker.
I'm a back-bay skinny-water angler by nature, but I'll be making the rounds over the next few weeks. Fishing opportunities seem endless as our waters become inundated with striped bass, summer flounder, and bluefish; a stray weakfish would be nice too. It's hard to do it all, but I'm going to try my best to spend as much time as I can on the water this season. If the bite gets real good, eat, sleep, fish will turn into fish, fish, fish!