by Frank Ruczynski
I wish I had some better news to share, but the truth is March hasn't been much different than January or February. Most of "Marchuary," consisted of snow showers, daytime air temps in the low to mid-40s, and a steady dose of 15 to 20-mph wind. The immediate future isn't looking much better with a coastal storm due on Monday and high temperatures forecast below 50 right through the end of the month. There may be some light at the end of the tunnel as most of the long-range forecasters are expecting a sizable warm-up in April. I guess it can't stay cold forever.
Most years, we don't see consistent action until April; however, it doesn't stop some of us from trying. Sure, there are some localized areas that are known for early-season action, but the bulk of the fish don't arrive until April. If you haven't fished yet, you're not missing much. Even though it may not feel like spring, the coastal water temperatures are just about on target for this time of year.
NOAA Coastal Water Temperature
Despite less-than-favorable conditions, more than a few striped bass have been caught this season. Most of the reports are coming from anglers fishing at the warm-water discharge, but there has been some action in our backwaters, too. Shallow bays and river mouths are yielding linesiders, even though most of the action has been fairly inconsistent. The Delaware River water temperature at Philadelphia is currently below 40 degrees, yet anglers are catching striped bass on bloodworms. The ball's rolling; we just need a little warm up to initiate some serious action.
Between the recent weather and a nasty virus that went through the family, my time on the water has been limited. I have a couple of trips under my belt, but I have a lot of making up to do! As usual, we started at midnight on March 1. My son, Frankie, and his friend, Kyle, joined me in hopes of returning with our first linesider of the year. As it turned out, we did more driving than fishing and ended up with nothing to show for the night but some laughs. We enjoyed our time together, but it was a bit of a disappointment after the great start we experienced last season.
I waited what seemed like forever (about two weeks) before heading out again. I saw a weather window last Friday night (3/15) and made the most of it. I fished the dropping tide with soft-plastic baits and caught three stripers up to 26 inches. The fish weren't very aggressive and I only saw one pop on the surface, so I felt lucky to land the three I did. With water temperatures in the low 40s, catching bass on artificial lures is never a sure thing. A keeper would have been nice, but I went home with numb fingers and a smile on my face.
First Striper of 2013!
Just because I haven't spent much time on the water doesn't mean I haven't been busy with fishing-related duties. Planning my assault is a never-ending task. I researched a ton of fishing gear, ordered a bunch of new tackle, rigged and polished two kayaks, and learned how to use my new GoPro: the remote control feature and iPhone app are great, even if they are still working out the bugs. I've spent a great deal of time preparing for the season so I won't have to waste time when the fishing action really picks up.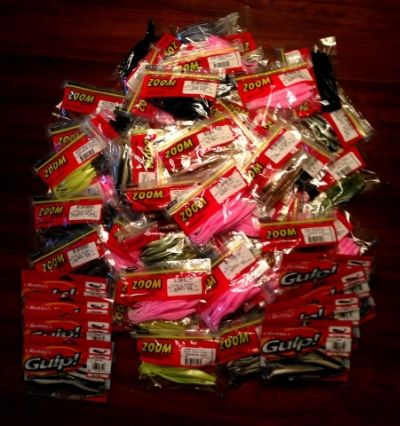 Bass Pro Delivery
One of the things I'm looking forward to the most this season is fishing new areas. I've studied my nautical charts and zoomed in on Google Earth enough to make me cross-eyed. As a land-based angler for most of my life, access to most of the fishy looking areas was always restricted. Having a kayak and feeling comfortable in it will allow me to explore areas that few others fish. I can't tell you how many times I heard thunderous splashes in the distance while stuck on a distant sod bank, bridge, or pier. If nothing else, I'm sure it'll be an adventure.