by Frank Ruczynski
As coastal anglers, it's safe to say that most of us are anticipating a great fall run, but why rush it? The truth is, many of the summer species remain in our waters and will continue to hang around for at least another month. No matter how much we want the striped bass run to begin, it's at the very least, a solid month away. Sure, the mullet are beginning to make their way towards the inlets, but for every striped bass chasing those mullet, there are a 1000 snapper bluefish. With a little over a week left in the summer flounder season and a solid showing of 12 to 26-inch weakfish, I'm not in any rush to say goodbye to the summer season.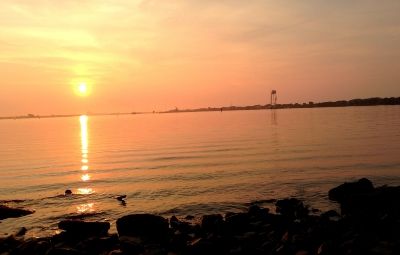 A late-summer sunrise over Cape May Harbor
I hope anglers plan on taking advantage of the unexpected, extra eight days added to this year's summer flounder season. It's rare to receive bonus time on any type of species, so I'm looking forward to at least another trip or two. Flatfish action remains good at many of the local wreck and reef sites. For those of us that are old enough to remember a time before summer flounder had a season, we know that those wrecks and reefs hold fluke well into October. Ocean conditions look a little sporty for much of the week, but the forecasters are expecting calmer seas by the weekend. If the weather prediction is right, I may spend the next few days live-lining some mullet around some of my favorite inlet rock piles. Those big flatties love mullet! I'm hoping to be back out on the wrecks and reefs by Friday or Saturday.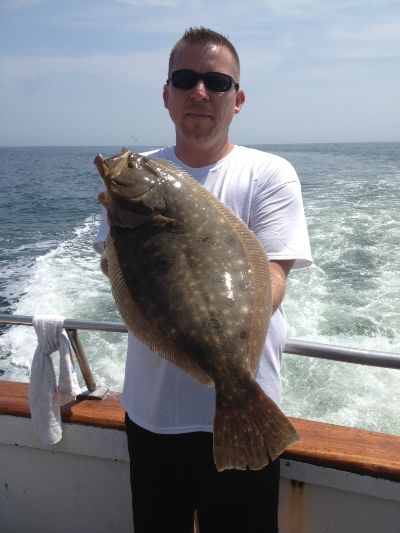 The party boat fun isn't over yet!
Once I'm done with the flatfish, I would be a fool not to take advantage of some of the best weakfish action of the season. Late-September and October nights offer incredible weakfish action. Our backwaters are chock-full of peanut bunker, spearing, and mullet and those speckled beauties are hot on their tails. Most seasons, the late-summer/early-fall push of weakfish run on the small side, but over the last few seasons, numbers of 3 to 5-pound weakfish seem to be increasing steadily. If we happen to find some decent striper action while targeting weakies and I'm certain we will, no one will be complaining.
I spent last Tuesday, September 10, enjoying a summer day at Hereford Inlet. I did some scouting around and everything I experienced felt like summer. I fished a few of my favorite fishing holes and caught tons of small spot, sea robins, sea bass, bluefish, and kingfish. I took in a little sun and enjoyed a few hours boogie-boarding in the 75-degree surf. The day was incredibly enjoyable as fishing action was great, even if they were on the small side. There were quite a few anglers out and about and most seemed content with the small bluefish and kingfish they were catching.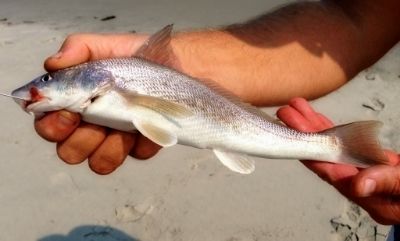 A Hereford Inlet kingfish
On the way home, I stopped in a few of the local bait and tackle shops and heard some talk about mullet. Since my visit a few days ago, talk about mullet has increased and should continue to do so as we approach the full moon on September 19. With a cold front passing today and a little NE wind forecast for tomorrow, things could get interesting along our inlet jetties. As great as all this sounds, we can't ignore the fact that water temperatures are above 70 degrees along much of our coastline. I'm sure some resident bass will take advantage of the departing mullet, but I seriously doubt that we'll be experiencing any monumental fishing action in our area. In my opinion, most of the mullet leave a little too early to expect any real widespread striper action. There was a time when a September mullet run meant something in our area, but it's been years since we've seen newsworthy striped bass action in September. If only those mullet could hang around into October and November, then, we'd have something to talk about.
Honestly, I don't blame anyone for looking forward to the fall run, especially after last season's unforgettable Super-storm Sandy. Many anglers, including yours truly, hung up the gear after Sandy and the nor'easters that followed. A fall without fishing just didn't feel right, but I felt lucky as missing a fall's fishing run was minuscule when compared to some of the devastation others had to endure. Just days before Sandy rolled through, we were into an incredible weakfish bite. After the storm hit, fishing was the furthest thing from my mind as I watched friends struggle to get their lives back in order.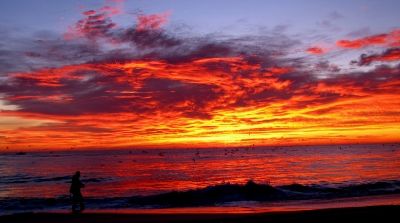 Mornings we all dream about
Looking back, not fishing last fall has allowed me to appreciate the sport I cherish much more. I find myself enjoying each fishing trip, even if the results aren't impressive. Thoughts of blitz-type fishing with schools of bass and blues on mullet, peanut bunker, or sand eels is every anglers dream. My heart rate increases just thinking about it, but as much as I'm looking forward to the fall run, I'm going to enjoy every bit of summer that I can!