by Frank Ruczynski
Wow, we've come a long way since two weeks ago when I posted my last blog entry. Before the recent warm up, most of us were beginning to wonder if winter would ever end as we set record lows and struggled to reach 40 degrees for daytime highs. I don't think anyone could have imagined such a change in the weather pattern: from 30s and 40s to 80s and 90s? I still have a hard time believing the mercury hit 90 degrees on Wednesday afternoon. This type of up-and-down weather rollercoaster usually makes for unpredictable fishing action, but the recent spike in air temps may have been just the kick start we needed to get things going!
Like most anglers, I have striped bass on my mind, but I've been spending most of my free time chasing pre-spawn largemouth bass and brook trout. Over the last few days, freshwater action exploded and it's been tough to pull myself away from the great action. The warm up has been much more noticeable for inland residents than it has for our coastal residents. On Wednesday afternoon, a little sea breeze dropped air temps into the low 50's while it was close to 90 degrees in most of our inland towns. I choose to enjoy the summer-like weather at my local lakes and ponds in shorts and t-shirts versus throwing on a hooded sweatshirt and heading to the chilly coast in search of linesiders.
Inland versus Coastal Temperature
Last Saturday, April 6, marked the opening day of trout season in New Jersey. Trout season is in full swing as many of our local lakes, ponds, and rivers have been inundated with brook, rainbow, and brown trout. Since the initial preseason stocking, many of the same bodies of water have already received their second round of fish. Some of my favorite venues will be stocked again next week, April 15 - 19 and then one more time during week 3, April 22 – 26. There's plenty of trout for everyone!
NJ Trout Stocking
John Jones with a Big Brown Trout
Fortunately, I live in an area that's surrounded by lakes and ponds, many of which are stocked by the state. The same waters that resembled a mob scene on opening day are often quiet and peaceful on the restocking dates. I enjoyed fishing at three different lakes in the last three days and the trout action was great at each stop. To be honest, most of the recently stocked fish are on the small side, but I truly enjoy tossing spinners to those beautiful, little brook trout.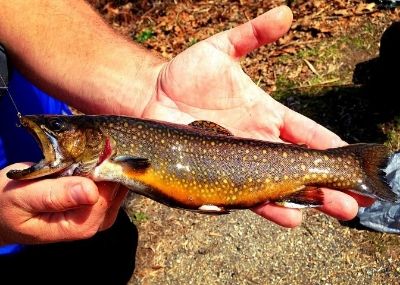 Brook Trout - Speckled Jewels
Before the trout stole my attention, I kept busy with largemouth bass and chain pickerel. After years of bugging my buddy, Dave, to try a kayak trip, we finally made it happen. On Monday, we loaded up the little plastic boats and made our way to Black Water Sports Center to pick up some minnows. I had plans to hit Willow Grove Lake as I figured the shallow water would warm quickly making it a great time to fish the massive stump fields.
Just minutes from the shop, we arrived at the lake and readied the yaks for a day on the water. I had fished Willow Grove from the shoreline, but never from a kayak, so I didn't have any experience to share with Dave about the lake. As we entered the lake, neither of us could believe how cold the water felt, but we continued on with high hopes. Dave paddled around for a few minutes and quickly got the feel of the kayak. We paddled up one side of the lake and never found more than a foot of water, but we did see lots of small pickerel shooting along the flats. We caught a few toothy chains and then moved along in hopes of finding deeper water and some largemouth bass.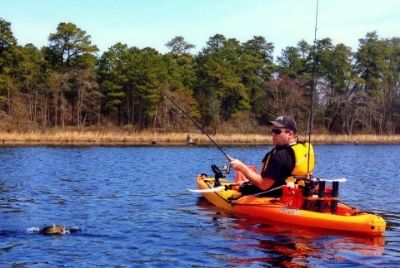 Plenty of Pickerel
As it turned out, we never found deeper water, but we did find plenty of hungry bass! Dave and I placed our kayaks on the edge of the stump field and watched as hungry bass and pickerel exploded on 6 to 8-inch shiners. Hooking 2 to 5-pound bass in inches of water makes for a great fight and some incredible visuals: when you're sitting in a kayak and a bass jumps, its right at eye level. As the day went on, the wind picked up a little, but we continued to catch fish steadily throughout the afternoon.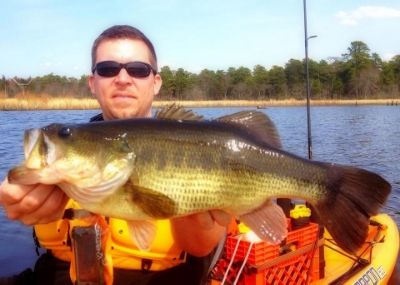 Hefty Largemouth Bass
Dave handled the kayak like a pro and we caught lots of fish, but that was only part of the experience. While on the water, we witnessed some great sites: turtles sunned themselves, great egrets and blue herons stalked the shallows, ospreys dove into the water to grab pickerel, and a small flock of swans flew overhead for most of the day. It was a trip neither of us will soon forget and a sure sign that spring has sprung!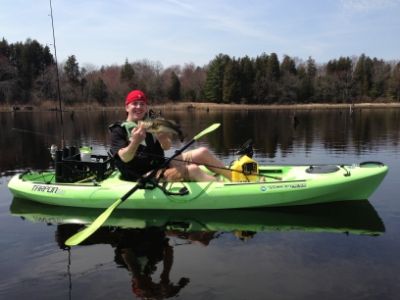 Dave McKinney's First Kayak Bass