by Frank Ruczynski
Usually by mid-January, I'm feeling the effects of cabin fever, but not this year! The recent warm-up has done wonders for the local fishing action and my soul. Our area lakes, ponds, and rivers are yielding good numbers of chain pickerel, yellow perch, black crappie, and largemouth bass. At the same time, coastal anglers continue to enjoy a fairly-consistent striped bass bite along the beachfront. As I see it, this is January fishing in South Jersey at its finest!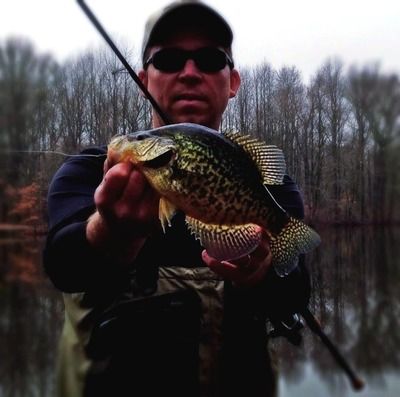 Crappie Days
As one might expect, fishing took a backseat to family obligations during the holiday season. Once I had some free time to check out the nearby waterways, I was greeted with a coating of skim ice. Skim ice is an angler's worst enemy: you can't stand on it and you can't cast through it. When we were younger, we'd take the canoe out and break through the ice with our paddles, but I'm much older and not nearly as adventurous now. I ended up fishing a few of the local spillways, with limited success.
Thankfully, a week into the new year brought a little sunshine and some much warmer air temperatures. The skim ice quickly melted and I was able to hit my favorite fishing holes. I was greeted with some great action, especially on the flats. Believe it or not, the January sunshine can warm those mud-bottomed flats in just a few hours. After a few sun-filled afternoons, I began seeing baitfish jumping and predatory fish boiling on the surface: game on!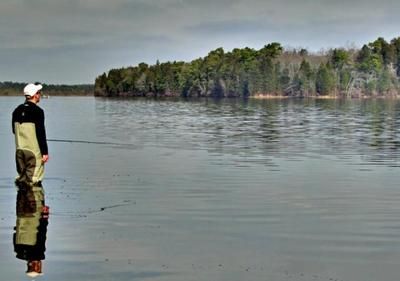 Some January Fun in the Sun
The mid-January bite was much better than I expected. While chain pickerel and yellow perch always seem to be willing participants, I was surprised to see largemouth bass and black crappies so active. Usually in cold water, a painfully-slow retrieve is required to draw a strike, so I couldn't believe how these fish were chasing down my 3-inch Berkley Gulp Minnow. I moved up to 5-inch Zoom Super Flukes and continued with great results.
Lots of Action
A few days into a steady bite, I received word that Blackwater Sports Center acquired a fresh shipment of lively minnows and I haven't put my rod down since! My son, Jake, and I took four-dozen minnows out over the weekend and had a blast, despite the dense fog and lower-than-forecasted air temperatures. The action has been fast and furious and to top it off, some monster crappies have joined the party.
Jake had his hands full with this slab crappie!
While I've been busy at the neighborhood hot spots, some of my fishing pals continue to beat up on the state-stocked rainbow trout. Spinners and mealworms took a few fish, but Berkley Powerbait is the go-to bait when the water temperature approaches 40 degrees. Those pretty rainbows should keep anglers busy right through the winter.
Jimmy Jones with a January Rainbow Trout
If freshwater fishing isn't your thing, it sounds like there are lots of saltwater options now, too. Party and charter boats are fishing over the deepwater wrecks and loading up on sea bass and tog. Closer to home, a few of my diehard, surf-fishing buddies are catching stripers on clams in Cape May County. Further north, rock-hopping anglers are catching striped bass on small plugs, teasers, and bucktails. According to the National Oceanographic Data Center, surf water temperatures are just about 44 degrees at Atlantic City and a balmy 48 degrees in Cape May.
As I write this, more-seasonable air temperatures have returned and the long-range forecast is looking rather grim. This weekend may be a little windy, but daytime high temperatures should be close to 50 degrees; if you want to get out and bend a rod, get out while you can! I have a feeling it won't be long before old man winter returns and freezes over our waterways again.