by Frank Ruczynski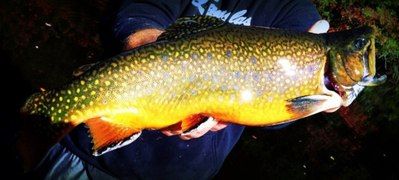 Trout fishing in South Jersey isn't like it used to be! Not long ago, if someone mentioned trout fishing, thoughts of 10 to 12-inch trout, overcrowded lakes, ponds, and streams came to mind. If you've fished on the opening day of trout season, you know what I'm talking about. I'm not knocking the spring fishery, but comparing the spring fishery to the fall fishery would be like comparing mice to men.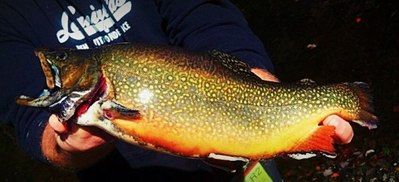 An Average Fall Brook Trout
The months of October and November offer South Jersey anglers incredible opportunities as super-sized trout are stocked into many of our local waterways. The fall and winter stockings consist of tackle-testing 14 to 24-inch brutes. Go ahead, bring your ultra-light combos loaded with 4-pound mono; these hook-jawed monsters will surely test your angling skills!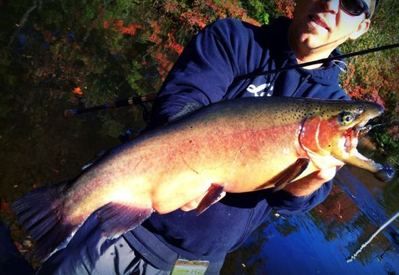 A Drag-Pulling Rainbow Trout
During the fall, I usually prefer saltwater fishing for striped bass, but with the recent coastal storms, I've decided to stay close to home at the local fishing holes. Whether I'm pounding the banks or out in the kayak, my time on the water has been incredibly enjoyable. Fishing for largemouth bass has been tough since the snow storm, but the trout fishing has been nothing short of outstanding.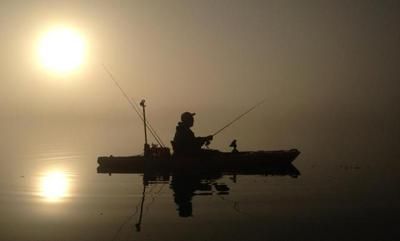 The Calm After the Storm
I've enjoyed the great, fall-trout fishery since 2006, so I always make sure to circle the stocking dates on my calendar. As soon as I saw the date, I asked my 11-year-old son, Jake, if he'd like to tag along. He looked at me with the, "do you even have to ask" look and then came the difficult task of smoothing it over with mom as the stocking date fell on a school day. Not only did my lovely wife agree to let Jake play hookie, she decided to join us at the lake, too.
On the big day, we headed over to Hammonton Lake around 9:30 AM as the trout truck usually shows up between 10 and 11 AM. When we pulled up, I was happy to see just a few other anglers along the bank. Jake and I gathered our equipment and set up in a prime location. Over the next half-hour, we kicked around some rocks and talked about some of our other recent fishing trips. Before we knew it, the hatchery truck pulled up behind us and we watched in awe as the guys threw in trout after trout.
Raised with Pride!
Watching the big trout being tossed into the water was amazing, but we didn't waste any time; Jake and I started casting right away and it didn't take long for us to hook up. Usually, the trout are a little wary as they need to acclimate to the water, but not today! They were nailing spinners like they hadn't been fed in weeks. Big brookies, rainbows, and brown trout were swarming right in front of us and attacking just about anything we cast into the water. It was the best trout fishing action I've ever experienced and the fact that my son was there with me made it ten times more enjoyable! Watching Jake reel in those big brook trout will forever be etched in my memory.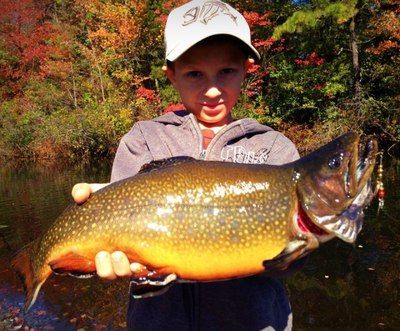 Jake Had His Hands Full with This Brook Trout
A little later into the day, we were visited by NBC 40's reporter Sam Sweeney. He asked us a few questions about fishing and informed Jake and I that we'd likely be on the evening news. I fish often so I've seen my share of newspaper reporters while out on the water, but it was the first time I saw a television-news channel covering a local fishing event.
TV Time
Soon after the reporter and cameraman left, I sat on the bank and thought to myself, "Could today get any better? Here I am enjoying a beautiful fall day with my wife and son, catching big trout after big trout, and now we're going to share our day on the news!" By the way, I set my DVR to record the 5:00, 5:30, 6:00, and 11:00 PM news and the "Gone Fishing" segment was a little different every time, but we had lots of face time; I still call Jake superstar.
The trout have thinned out a little since the fall stocking, but the trout trucks will be visiting our area again next week! Don't miss your chance to get in on the action! I know I'm looking forward to seeing those big rainbow trout. The 2012 winter trout stocking schedule for our area is as follows:
Tuesday, November 20
Atlantic County
Birch Grove Park Pond - 180
Camden County
Haddon Lake - 190
Rowands Pond - 100
Cape May County
Ponderlodge Pond (Cox Hall WMA) - 160
Cumberland County
Shaws Mill Pond - 200
South Vineland Park Pond - 160