by Frank Ruczynski
We're heading into late August and the tide is slowly turning. Those long, hot summer afternoons are slowly moderating as we continue to lose a minute or two of daylight every day. On June 20, sunrise took place at 5:34 AM and sunset at 8:28 PM. Today, the sun came up at 6:18 AM and set at 7:47 PM. Since the first day of summer, we've lost 44 minutes of daylight in the morning and 41 minutes in the evening for a total of an hour and 25 minutes. By the first day of autumn, we'll lose another hour and 20 minutes of daylight. If you're like me and prefer to fish at night, well, we're not losing anything, but gaining darkness and more productive fishing time.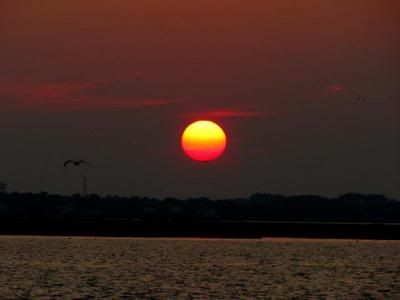 Back Bay Sunset
I've spent countless hours plying the South Jersey backwaters and the late-summer/early-fall time period is one of my favorite times of the year. When I think of late-summer nights on the water, I think of peanut bunker flipping on the surface and the gamefish I'm searching for beneath them. At this time of year, trophy fish often seem few and far between; however, what the fish lack in size, they make up for in variety. There are so many possibilities on any given cast. The usual suspects such as striped bass, weakfish, summer flounder, and snapper bluefish provide most of the action; however there are enough speckled sea trout and red drumfish around to keep things interesting.
South Jersey Surprises
As enjoyable as the fishing action can be, the late-summer pattern can also be very frustrating for anglers. If you think about it for a minute, it makes sense that this time period would be one of the most difficult times to catch fish: the warm back-bay waters are boiling with a plethora of baitfish and there hasn't been any real trigger to put the gamefish into blitz mode. A single gamefish could swim through thousands of baitfish in just a few minutes; what are the odds that it will take your bait?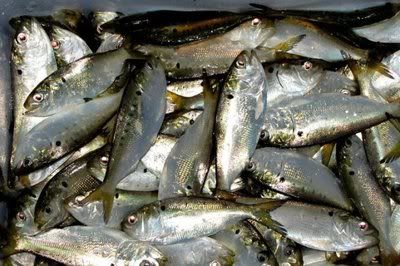 Peanut Bunker
Most of the time, I prefer to fish with small jigs and soft-plastic baits, but there are occasions when my offerings go untouched. I've thrown small plugs, bucktails, and everything else in my bag to feeding fish with no results. That's when it's time to break out the cast net and wrangle up some live bait. Peanut bunker are usually quite easy to find. Keeping peanuts alive can be difficult, but I've experimented with some fresh-dead bunker and found they seem to work well threaded onto the same jigs that I use when I'm tossing soft-plastic baits. The weakfish really seem to love them. A fish-less night can be quickly turned around with just one well-placed toss of a cast net.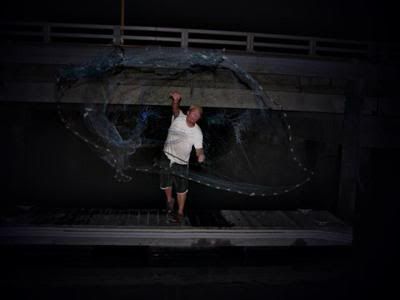 Tossing the Cast Net
The recent return of weakfish should make for some great late-season action. We've had nights when we've caught well over fifty weakies per night. While most of the weakfish are usually in the 12 to 18-inch range, we see enough fish in the mid-20-inch range to keep us entertained. Years ago, when weakfish stocks were strong, we caught them right through the Thanksgiving weekend. Barring any severe coastal storms, I expect some of the best action to occur in early October as blitzing weakfish will be gorging themselves before making their way towards the inlet and out to sea.
Hungry Weakfish
Unfortunately, keeping up with life has put a serious dent in my fishing time. I thought life would be a little easier as my children grew up, boy, was I wrong! Fun time with a rod in our hand has been replaced with car shopping and applying to colleges with my oldest son, tennis practice and school shopping with my daughter, and it's always an adventure trying to keep up with my 10-year-old son. We hit the local lakes and ponds from time to time and we always enjoy ourselves, but it's just not the same.
On the bright side, I'm taking care of business and school starts in two weeks! I'll miss the little ones, but my schedule will allow me much more free time and I can get back to doing what I love to do. I better get going; I can already hear those weakies calling my name.