by Frank Ruczynski
Where has the summer gone? August is creeping up and I can't help but wonder what happened to June and July. I've spent much of the last two weeks close to home on our local waterways. During those two weeks, I've hit a bunch of sweet-water venues and enjoyed the company of at least one of my family members on each trip. I guess the old adage rings true, "Time flies when you're having fun!"
Kayaking with Jen at Lake Narraticon
My family is very fortunate to live in an area that is surrounded by small lakes and ponds; we have at least a dozen lakes within a ten minute ride of our house. One of these lakes is named Lake Garrison; chances are good that you'll find us fishing, swimming, or sunbathing here on a hot summer day. The lake is open to the public for a small fee: $6 on weekdays, $8 on weekends and holidays or you may choose to take advantage of their discounted season passes, as we did. For more detailed information, check out their website.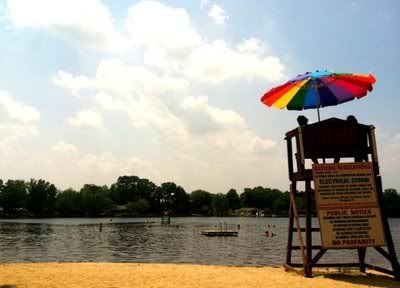 Fun in the Sun at Lake Garrison
There are tons of things to do at Lake Garrison, but I don't know if any of its other attributes can top the outstanding fishing opportunities this gem offers. Fishing from land is very limited, but the friendly staff rents rowboats, kayaks, and paddle-boats to get out onto the water. If I'm going out with the family, we'll usually take a rowboat, but when I'm by myself, I really enjoy fishing from the kayak. The shallow, cedar-colored water with lots of lily pads and docks resembles most of the other nearby lakes, but the fishing action here is head and shoulders above the rest.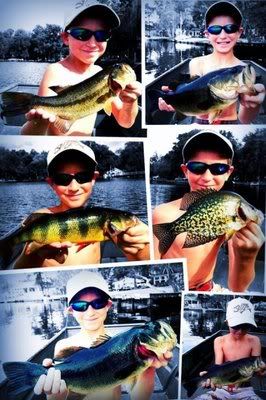 Jake Has His Hands Full
On the last few trips with the crew, the fishing action was unbelievable; it almost seemed too easy. Usually, I spend a great deal of time and energy planning out our fishing trips as I want to make sure the kids have a great time, but this was as easy as it gets. A bucket of minnows, a few hooks, and a couple of rods is all we needed. The kids reeled in fish after fish and giggled the whole time, while I sat in the back of the boat with my GoPro and a big smile on my face.
With little ones on-board, I find myself fishing less as most of the time I'm busy watching, teaching, or helping them in any way I can. Every once in a while, I manage to sneak in a few casts and as luck would have it, I ended up taking my personal-best pickerel this week. The kids cheered for me the whole time as they watched me battle my trophy next to the boat. I've caught thousands of pickerel in my lifetime, but this 30-inch beast topped them all. An already great day just got better!
30-Inch Pickerel
Once we got back onto land, I told a few of the patrons about our successful fishing trip. Some of the responses I got were funny. One of the residents told me he fished the lake often and never caught anything. A nearby patron heard us talking and was shocked to learn that he was swimming in a lake that had fish in it. On my way home, I showed the girl at the gatehouse a picture on my phone and she told me she had no idea that fish like that lived in the lake and that she would think twice before swimming in there again. Looking back, maybe I shouldn't have said anything; those teeth are intimidating!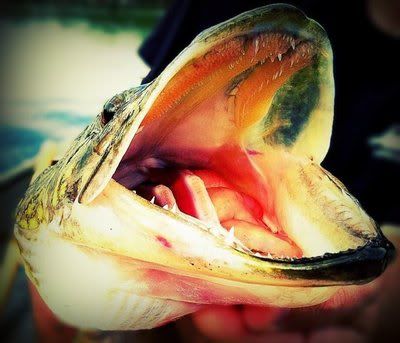 Look at Those Teeth!
Julia and Jake are already bugging me about our next trip. Before you know it, summer will be over and the kids will be heading back to school. I'll miss our days on the lake, but I'll have lots of memories to remember; I hope you will too. You know where we'll be.