by Frank Ruczynski
What seemed like a week-long stretch of northeast wind followed by the recent push of near triple-digit air temperatures complicated most of my back-bay fishing plans. I know there are still some fish around the backwater sounds and inlets, but I feel like my fishing time may be a little more productive by spending time on my kayak at some of South Jersey's finest freshwater fishing holes. I'm still fairly new at this whole kayaking thing, but there is one thing I can tell you for sure: it's incredibly enjoyable!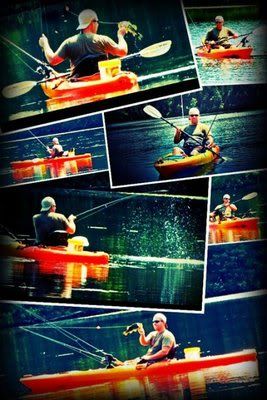 Freshwater Fun in the Kayak
I picked up my kayak last July after much research. Making a decision on which kayak would best fit my needs was much more involved than one may think; with so many types of kayaks on the market today, choosing between them can become a daunting task. My first decision was sit in vs. sit on top. For fishing purposes, just about every pro pointed me towards a sit-on-top kayak. The next decision was a little more difficult; did I want to pedal or paddle? The new line of Hobie Kayaks offers some great pedal drives, but they come with a premium price tag. I fish in a lot of weedy, shallow water and thought the Hobie MirageDrive may not be in my best interest.
Once I narrowed down the type and style of kayak I wanted, it was time for some field testing. I spent the better part of the day getting in and out of all kinds of kayaks. I quickly learned the difference between primary stability and secondary stability - primary stability is a term used to explain how much a kayak rocks back and forth when a paddler shifts their weight and secondary stability describes how readily a kayak capsizes. After many years of canoeing, I was expecting most of the kayaks to flip over rather easily when pushed to the limit. As it turned out, most of the kayaks I tested were very difficult to flip.
With a few safe fishing platforms to choose from, my final decision would be based on comfort. I stopped canoeing a few years back, mostly because after a few hours on the water, my back just couldn't take anymore. I planned on spending lots of time in my new fishing machine so it was important that the seat offered proper support. The new seats on some of these kayaks are unbelievably comfortable and make spending eight hours or more on the water entirely possible. After much time and thought, I chose to go with the Tarpon 120 – Wilderness Systems Kayak.
My Fishing Machine
From the day my kayak was delivered, there's been no turning back. I started fishing in some of the smaller lakes and ponds and couldn't get over how enjoyable and rewarding fishing from such a small vessel could be. From tossing nearly-frozen minnows in two-inches of water for early-season pickerel to froggin' on the lily pads for largemouth bass, I feel like I can do it all. Many of the places I fish, I couldn't access in anything other than a kayak. I find myself tweaking little things here and there to make the most of my time on the water, but that just adds to the fun.
Just recently, I added smallmouth bass fishing onto my to-do list. I had plans to fish Lake Audrey for smallies, but before I got down there, I accidentally stumbled onto a terrific smallmouth bite at Union Lake. I knew the New Jersey Division of Fish and Wildlife stocked smallmouth bass into Union Lake, but I had no idea that the fishery was so far along. Since discovering the great smallmouth fishery, I've spent countless hours chasing them in my kayak. If you haven't fished for smallies, you have no idea what you've been missing. They attack top-water baits with reckless abandon and then put on an acrobatic display that would rival any circus performer.
On my last trip, it took a little longer than I expected, but after a few drifts, I found the mother lode of smallies just off an island point. For a solid two hours, every drift provided an explosive strike followed by another airborne smallie; when you're sitting at water level in the kayak, the jumps seem even more dramatic! At the end of my trip, I couldn't help noticing the gargantuan explosions coming from the nearby lily pads. I paddled over, but realized I left all my frogs back in the car and it was getting late. I won't forget them next time.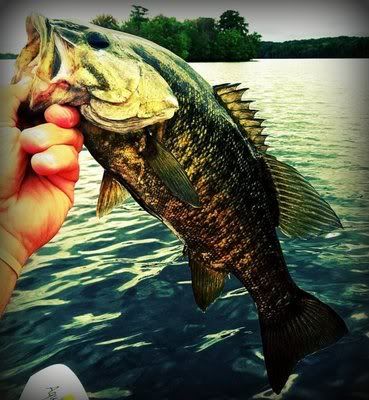 Union Lake Smallmouth Bass
As if the smallmouth bass weren't enough to keep me out there, I found that Union Lake offers a tremendous fishery that could only be rivaled by our northern New Jersey waters. While drifting for smallmouth bass, I've hooked into largemouth bass, crappie, yellow perch, sunfish, shiners, white perch, pickerel, and channel catfish.
Kayaking Around South Jersey
I'll never forget my first encounter with a Union Lake channel catfish. I was drifting for smallies with light-spinning gear spooled with 6-pound test when my rod doubled over. At first, I thought I was snagged, but quickly noticed that whatever grabbed my bait was pulling me and my kayak against the wind. Being a land-based angler for a good portion of my life, I have to admit, it felt odd being towed around the lake. I couldn't believe this thing was capable of pulling me and my kayak wherever it wanted to; for the first time in my life, the fish was pulling me around! After a long battle, I finally pulled a very tired 12-pound channel cat beside the yak. When I saw that it was a catfish, I have to admit, I was a little disappointed as I was hoping for a trophy smallmouth or largemouth bass. I would have never guessed that a catfish could provide such excitement. Since that trip, I've caught a bunch of big channel cats while fishing for smallmouth bass and I've enjoyed the fight so much that I'm planning a trip specifically for them sometime in the next few weeks.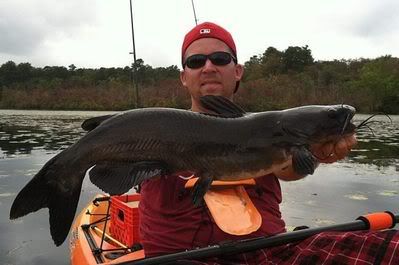 A Hefty Union Lake Channel Cat
With summer in full swing, I'm going to be spending most of my time exploring some more of the nearby waterways. Over the last few weeks, I've heard a lot of talk about snakeheads in our local waters. Hopefully, I'll have some useful information about them in my next entry.