by Frank Ruczynski
At first, I thought it was just me, but after looking at the regional fishing reports, I think it's safe to say that most of the big, spring stripers have pulled out of our local waterways and are heading north for cooler waters. Reports from Cape May to Ocean City have slowed down considerably over the last few days. At the same time, some remarkable catches have been made a little to the north around Long Beach Island. The long-range weather forecast is calling for spring-like air temperatures, so let's hope those big girls hang around LBI for a couple of weeks; I'm not ready to give up on them yet!
Our back-bay waters also appear to be making the transition to the summer season. Striped bass and herring seem to be thinning out a little more on each trip, while snapper bluefish are invading the inlets and wreaking havoc in the skinny waters. Regional water temperatures are well-above normal and surely play a big role in my recent observations.
Current Water Temperatures
Before the holiday weekend, some monster bass were caught on the Cape May beaches and between Ocean City and Atlantic City. The Cape May bite was best during the incoming tides and especially good towards slack tide; fresh clams continue to be the choice bait along the beachfront. The striper bite in the OC to AC area took place at night and lots of big fish were caught on plugs. Since the weekend, things have quieted down. I'm hoping that the full moon (Monday, June 4) tide stages will spark the bite again.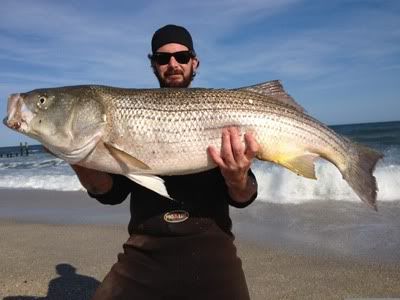 Rob Woolfort with a Beauty from Cape May
I had quite a streak of fishing time going on until about two weeks ago. It started last fall with that incredible run of striped bass off of Island Beach State Park and continued right through the winter months. By mid-January I fell into some great freshwater-fishing action. Between the great sweetwater action and an early start to the 2012 striper season, I just couldn't get enough. I felt like I was making all the right decisions and scoring great catches on just about every trip. I guess it couldn't last forever.
Good Times!
Like many other anglers, I read the reports and use them as a barometer of the general fishing action for a particular area. I usually do my own thing and find that it's the best way to go, however there are times when the big fish reports get to me and I join the masses at the perennial hot spots. Between the fishing message boards and the never-ending newsfeed on my Facebook account, my backwater 30+ inch bass and spring weakfish eventually get trumped by 30 to 50-pound striped bass. You would think surf fishing for 30 to 50-pound bass would take precedence over everything else, but not for me. I prefer to catch monster tiderunner weakfish, however after years of catching 10 to 15-pound weakfish, the 12 to 24-inch fish just don't seem to bring me the same joy. Don't get me wrong, I still love being out there and fishing for tiderunner weakfish and I think it's great that we're seeing good numbers of smaller weakies, but it's just not like those glory days. Throw in a passion for backwater doormat fluke, plugging the rock piles and sod banks, and freshwater fishing for bass and trout and it's tough to squeeze it all into about a month's worth of fishing time.
As it turns out, I tried to do it all and fell into a bit of a slump. It started at my local lake when I lost an absolute giant largemouth bass right at my feet. Since then, I've been catching fish here and there, but I've made a bunch of poor decisions and with some of the largest striped bass of the season around, the timing couldn't have been much worse. I've fished long enough to know that it happens to everyone from time to time. I'm sure when I think back about the last six-months of great fishing, my two-week slump won't seem like such a big deal.
Lost a Good One
It's a big weekend in South Jersey for outdoor enthusiasts. The 20th Annual Delaware Bay Day will take place from noon – 9 PM at Bivalve on Saturday, June 2. The Bayshore Discovery Project and the township are inviting everyone to come out for food, fun, and a shared appreciation of South Jersey's maritime and natural heritage. I take the family every year and we always have a good time. My little one loves the blue-claw crab races!
http://www.nj.com/cumberland/index.ssf/2012/05/bay_day_brings_back_fireworks.html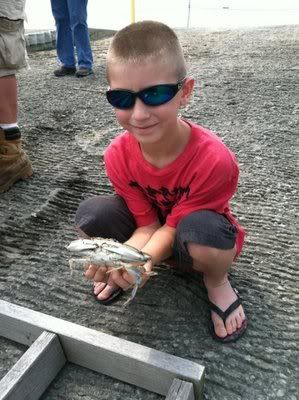 Jake's Ready for the Crab Races
On Sunday, June 3 Scotland Run Park will host the 15th Annual Gloucester County Water Fest. The festivities will begin at 11 AM and wrap up by 4 PM. Entry to the fair is free and offers The Wild World of Animals Show, music, exhibits, crafts, and food. We never miss any of the events at the park. Free face painting, kayaking, and canoeing should make for a great day!
http://www.co.gloucester.nj.us/news/displaynews.asp?NewsID=1069&TargetID=1,2,3,4,5,6,7,8,8,9,9,0,0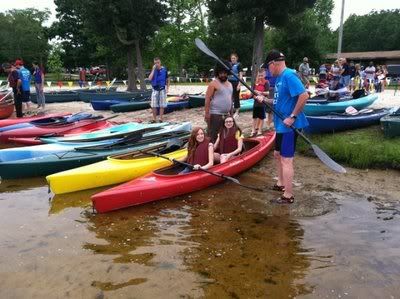 Water Fest Kayaking and Canoeing