by Frank Ruczynski
It's a great time to be an angler in South Jersey! The month of May offers some of the best fishing opportunities in our area. The last few days/weeks have been a blur as I've spent every free minute fishing the local ponds, lakes, backwaters, inlets, and rock piles. I've been trying to do it all, but I just can't keep up with all of the fishing opportunities that are available in our area now.
Trout fishing is a tradition in our family. We used to get up early and fish with the masses on opening day, but the in-season weekday stockings are just so much more enjoyable. Even though I have monster striped bass and tiderunner weakfish on my mind, I make time to hit the trout pond at least a few times each spring. Every year, I let the boys take a day off from school to go trout fishing. Frankie had a high-school tennis match, so Jake had my undivided attention. We got to the pond soon after the hatchery truck stopped by and we were into fish right away. We had an incredible day that ended with Jake taking his first limit of rainbow trout. The smile on his face makes it all worthwhile!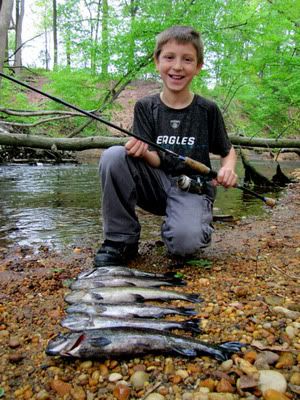 Jake's Limit of Rainbow Trout
As usual, most of my time has been spent in the back bays chasing striped bass and weakfish. The skinny-water bite has been steady and for the most part, predictable. The falling tide has been action-packed as the bass have been active during the beginning and middle of the outgoing tide; while the weakfish show up a little later towards low water. The fish I've been catching haven't been anything to brag about, but the action has been steady and I'm enamored with the amount of 12 to 20-inch weakfish that have invaded our backwaters. Those back-bay beauties seem to be around in better numbers than I've seen in the last five years.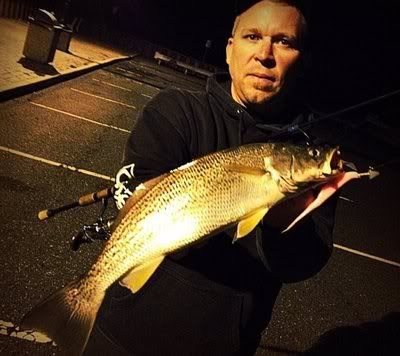 Back Bay Beauty
On Tuesday night, I was lucky enough to catch a tagged striped bass. This particular tag was from the American Littoral Society. I called in the tag number on Wednesday morning and I can't wait to hear back from them. I've been fortunate enough to catch a bunch of tagged fish over the years and it's always a pleasure to learn more about the fish we pursue. The location and date of the tag are always interesting, but it's also worthy of note to see how much the fish has grown. The prizes and certificates offered by the tagging agencies are also an added bonus.
Tagged Fish Prizes
We're just hours away from the 2012 summer flounder season. The flatfish have become much more aggressive over the last few days. We're starting to catch them regularly at night, so I'd imagine the daytime bite has to be very good. I have a trip planned on Monday, so I'll have some more information to share in my next blog entry. I'm glad the season opens in a few short hours; it's been tough playing catch and release with those hefty flatfish.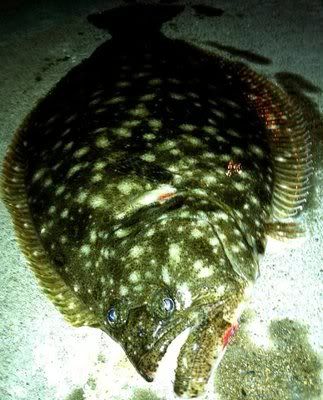 Midnight Flattie
Thanks to a little prodding from my pals, I finally pulled myself away from the backwaters and spent a day on the rock pile. We fished a popular, Cape May jetty on a very windy day and managed to score a few striped bass. Action was far from fast and furious; nevertheless, we did catch a few decent linesiders on plugs. Dark-colored Bombers are a favorite at this location, although we caught most of our fish on Yo-Zuri Mag Darters. I didn't give up on my Bombers easily, but I ultimately gave in and tied on a Mag Darter after some more prodding by my buddy, Rob; after all, he already had a few fish under his belt. Just a few casts later and I was into a decent striper.
Jetty Bass with Rob Woolfort
With so much going on, I haven't spent much time with my feet in the sand. Up until recently, surf-fishing reports seemed rather inconsistent. Just over the last few days, I've heard about some real monsters coming out of the Delaware Bay and up along the Cape May beachfront. A long-time friend, John Jones and his son Jimmy were fishing clams at a well-known hot spot on Thursday evening when one of the rods doubled over. After a well-spirited battle, Jimmy slid the 44-inch, 33-pound cow up onto the beach. This weekend's full-moon tides should keep the big girls on the move. I have my 11-foot Lami's all rigged; I know where I'll be on Sunday morning!
Jimmy Jones with a Trophy Striped Bass