by Frank Ruczynski
Rainy days are perfect for catching up. This nor'easter should provide some much-needed rain and allow me to complete some of the tasks that I've been putting off: starting with my blog. To say I've been fishing a lot over the last two weeks would be a colossal understatement. Striped bass and weakfish have kept me busy on the nightshift while state-stocked brookies and rainbow trout fill my days. I love this time of year; this is what I live for!
Dock Light Backwater Stripers
A couple of weeks ago, I planned to switch from back-bay fishing to fishing out front and over in the river, but the skinny-water action just keeps me coming back for more. I had the pleasure of fishing with my oldest son, Frankie, last week and our late-night backwater trip turned out to be a memorable one. Striped bass were blowing up on spearing and grass shrimp and were readily slamming our soft-plastic baits. Frankie's a senior in high school and has a busy schedule so he doesn't get to fish with the old man like he used to, but he picked a perfect night to tag along. We caught a bunch of fish and ended up taking home a pair of beautiful 36-inch fish. These fish were a blast on our light spinning gear.
A Great Father and Son Moment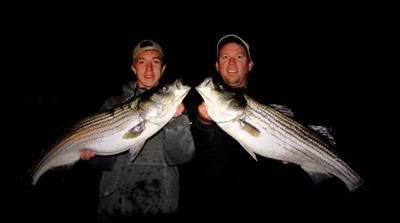 Since that great night with my son, the bass bite has steadily slowed down and I've had to work a little harder to find quality fish. They've been around, but I've had to cover some ground and put in some hours. In my experiences, this back-bay slow down happens each season as much of the striped bass population makes their way into our rivers to spawn a new generation. I have a feeling that once this storm passes, ravenous striped bass are going to pour out of the rivers. We're going to have a lot of fun in the next few weeks!
Backwater Bassin' with Dave McKinney
As luck would have it, just as most of the bass moved up into the rivers, weakfish moved into the back bays. While we haven't come across any of the big tiderunners yet, we have been catching good numbers of 12 to 20-inch fish. Usually, we don't see the spike weakfish until later in the season, but I'm not complaining. The weakies have been especially aggressive towards the end of the falling tide.
Back Bay Weakfish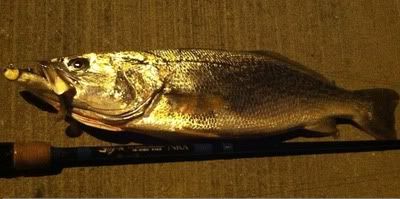 This storm might be good for striper fishing, but it's not going to help the weakfish bite. I have a feeling it will be at least three days before things start to settle down and the weakies become active again. When the weakfish were active, they were spewing out young-of-the-year herring, which seem to be plentiful in our back-bay waters now. By midweek, I'll be playing the tides and spending lots of time fishing between Cape May County and Barnegat Bay.
Young-of-the-Year Herring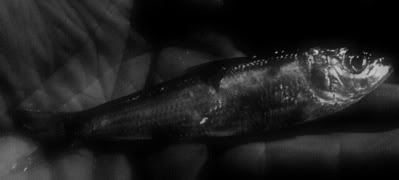 Historically, the month of May provides us with the best weakfish action, but everything seems to be running a little early this season due to the mild weather and warmer-than-average water temperature. My heart is hoping that we'll see a return of the big tiderunner weakfish this year; however, my brain tells me that it's going to be at least a few seasons until we start seeing good numbers of big weakfish again. Hopefully, the spike weakfish that we're catching now will make it to tiderunner status in the coming years.
Spring Weakfish
As a writer and an angler, I often check the fishing reports for my own area and other areas to see if I can find trends. I've been fishing too much lately to read through all the reports, but when I do look, I rarely see any information about weakfish. I know how tight-lipped anglers can be, especially when it comes to weakfish. I'm hoping that the fish we're seeing in Cape May County are a sign of things to come and not just an anomaly.