by Frank Ruczynski
The 2012 striped bass season started off with a bang as word of keeper-sized stripers spread like wildfire. As expected, a great deal was made about the season's first legal linesiders. The perennial hot spots paid off again: Oyster Creek and the Mullica River are two of the more productive early-season waters and I'm fairly certain that the reported fish were taken from these areas.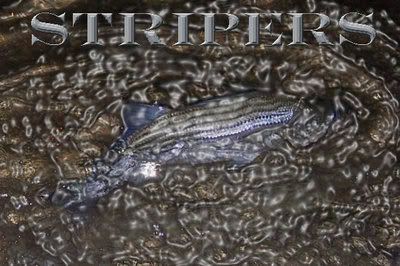 News of the first fish of the year always gets the blood pumping, but don't get too excited yet. For every fish that makes headlines, there are probably a 100 anglers that returned home with nothing more than cold fingers. Even though water temperatures are well-above normal, the migratory fish are most likely a few weeks away. Sure, there are plenty of resident fish around, but they generally don't make the minimum-legal-length of 28 inches.
After a long day of radar watching, a persistent rainstorm forced me to cancel any plans of fishing at midnight on March 1. Hold on, before any of you comment, "The fish are already wet" or "Some of my best fishing trips took place on rainy days," let it be known that I've never taken my first few fish of the season in the rain and God knows I've tried. Most of my early-season trips take place on shallow flats or around lighted structure and in my experiences, the baitfish just don't seem to school up in these areas like they do when it's not raining. To be totally honest, I try to put myself into the best possible situation to achieve success and after years of practice on the water, I've learned that your success ratio will soar if you play the odds.
The rain delay made my choice to fish the South Jersey backwaters a little more questionable as I learned of confirmed reports of keeper-sized stripers in the river and at the power-plant outflow, but I felt like I had a good plan and I was going to stick to it. With water temperatures pushing the 50-degree mark, I thought it might be a good idea to start at the inlet bridges. Those bridges yielded good numbers of bass on my last trip of the 2011 season (December 29) and it was possible, maybe even likely, that the fish stayed active throughout January and February. If plan A failed, plan B was to head back into the bay and fish some skinny water.
I arrived at the inlet just after midnight and found near-perfect conditions. The wind was calm, the water was clean, and the current was moving just right. While casting soft-plastic baits, I looked and listened, but I just couldn't find any promising signs of life. I made the rounds to check out some other productive areas near the inlets, but each attempt came up empty. I was starting to wonder if I should have headed up north to the power plant, but I continued on to plan B.
After a short ride, I pulled up to the same place that provided my first striper of 2011 (March 23). As I made my way to the water, I looked around and listened for feeding bass. More times than not, if the fish are at this location, you can see and hear them feeding on the surface. I looked and listened for a full five minutes before casting, but there were no signs of life. At this point, I was beginning to think that the first trip of the year was going to be an uneventful one.
My first cast hit the water and about two-seconds later, my baby bass-colored Zoom got thumped and the fight was on! Well, it wasn't much of a fight; the feisty 24-inch striper was far from impressive, but it sure felt good. I continued fishing the last hour of the incoming tide and landed four more bass between 18 and 26 inches. Right before high tide, I heard some thunderous pops on the far sod bank. This area was out of casting range, so you can imagine how torturous that experience was. The fish continued popping along the bank on the falling tide and all I could do was listen to what sounded like bowling bowls being thrown into the water. On the bright side, I picked up two more little bass before the wind picked up and the bite died down.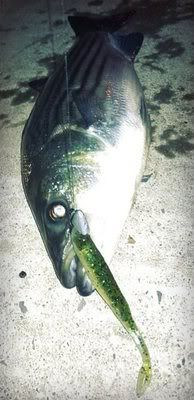 While it may be true that I didn't come home with any fish, I still consider my first trip a successful one. Seven stripers to 26 inches isn't a bad start to the season, but I still can't shake those earsplitting bowling-ball pops. I'll be back with my kayak!