by Capt. Steve Byrne
I suppose spring is over. Here we are in our second heat wave of the year, facing triple-digit heat Saturday. Striper fishing in the New York Bight has slowed to a crawl for me and, judging by the reports for the past couple of weeks, my results are fairly typical. With water temperatures in the Bay reaching the upper 70s, the chances of encountering any quality bass are low. I heard some reports of decent bass around the Statue, but even that action has faded.
This spring's striped bass fishing was sub-par for me. We caught some nice fish, but not in the numbers that I am used to seeing. My time on the water was limited almost entirely to charters, so I didn't give it the personal effort that I usually do. Moving into a new home and trying to get the family settled in definitely kept me away from the fish, and probably hurt my bottom line with the bass.
On the other hand, we experienced some of the best shallow water bluefish action that I have ever seen. Not only were the fish big and aggressive, but they were in the bay for the past six weeks. These fish ranged from 9 to 16 pounds and we usually found them in packs, tails sticking up out of the water. After my past two trips it seems that while the bay is still loaded with bunker, the tailing bluefish may have vacated the area. Hopefully they are still around and just lying low, but 78-degree water may be too hot for them too.
So we move full on into summer mode. For me that means some relaxing trips for fluke, sea bass and hopefully, weakfish. But I won't be giving up on bass entirely. There are resident bass to play catch and release with during July and August. I like starting out at false dawn with some schoolies on light tackle or on the fly, and then switching over to the secondary target species of the day. It's a welcome change from the effort that comes with fishing live bunker.
In the meanwhile, I finally stopped making excuses, got off the fence and published my collection of 23 fish stories.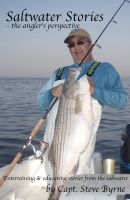 Saltwater Stories - the angler's perspective is available at
www.smashwords.com
The motive for writing it was to share fishing stories that relate some of the small details that helped me become a better angler. Often, it's the little things that make the difference between fishing and catching. It's available in multiple formats and you can download a preview of it online. If you decide to check it out, let me know what you think.