by Frank Ruczynski
Summer flounder action is heating up along our reef and wreck sites! Fishing reports are pouring in from all over as bottom-bouncing anglers fill their fish boxes with tasty fillets. The season has been extended an extra eight days until September 24, so there's still plenty of time to plan a trip or two. With a little luck and some decent weather, the last few weeks of the 2013 summer flounder season could be magical.
As a backwater angler, I take a little time away from the saltwater scene during most of July and August. The fishing action generally seems to be a little slower and to tell you the truth, the thought of beach-going crowds makes me cringe. Usually, local freshwater action holds my interest, but I needed an escape from largemouth bass and lily pads.
Salty air and a trip on a head boat to fish over some rough bottom is just what I needed. Believe it or not, I have a lot of fond memories about fishing along the party boat rails. It's been a couple of years since I fished on a head boat, but the Cape May-based Porgy IV came to mind as I feel like Captain Paul is one of the best in the business.
Porgy IV
My buddy, Dave, and I agreed to head out on Friday, August 16 as the weather and ocean conditions looked superb. We arrived in Cape May at 6:30 AM and were a little surprised to see so many anglers already lined up, especially in the bow and stern. When we were a little younger, we would put our rods on the boat around midnight and fish the back bays until sunrise, but we're a little older and softer now. We grabbed our gear and set up on the starboard side just a few feet from the stern.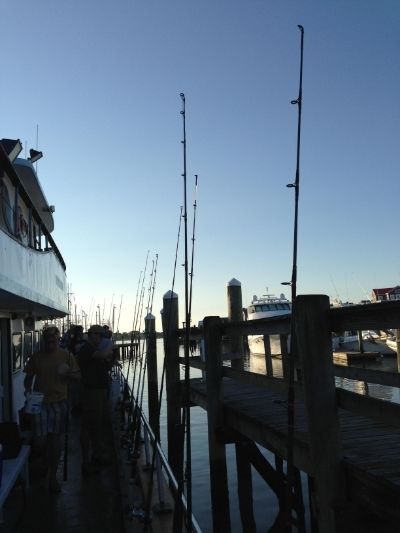 Early-morning full boat
With our rods tied to the rail, we walked over to the Lobster House and ordered breakfast. The eggs, toast, potatoes, and orange juice hit the spot. I've had breakfast at all the local eateries, but the Lobster House's Luncheonette gets my vote. After our meal, we walked across the street to Jim's Bait and Tackle to pick up a few rigs and some ice for our cooler. Before we knew it, it was closing in on 8 AM, the boat was full, and we could hear the roar of the engine.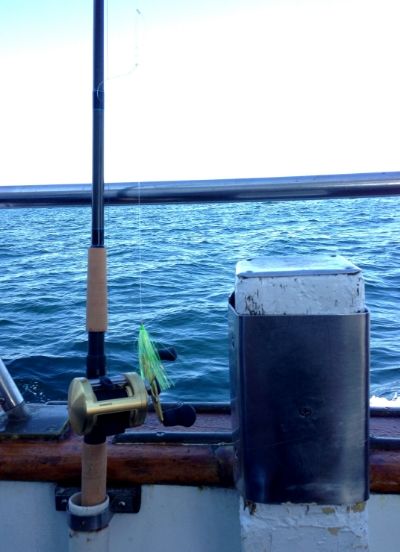 Rigged and ready
When we fish for fluke with Captain Paul, we're used to making a hard right at the inlet with a south heading set for the Old Grounds, but on this day, we headed almost straight east to fish what I assume was the Cape May Reef – head-boat captains never seem to like talking about their fishing spots. With word of good fishing action at the Wildwood and Cape May reef sites, I wasn't too surprised that we headed east – if nothing else, at least the ride was a little shorter.
As Cape May slowly disappeared along the horizon, we double checked our rigs and shared a few fishing stories with some of the other patrons while the mates collected fares and prepared bait for our day on the water. I always enjoy watching the old-timers break out their secret rigs and magic baits. Everyone was pleasant and a joy to be around; it was a good crowd.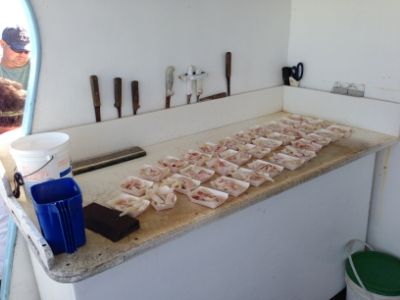 Well-prepared bait boats
When we approached the fishing grounds, we could make out what looked like a small city. It turned out to be a fleet of boats that were already into a good pull of flatties. Our captain decided to fish alone, just a little south of the fleet. The boat provided an ample amount of squid, fluke belly, and mackerel strips to bait our hooks. I dropped my green, mylar rig down to the bottom and was into fluke right from the first drop. We caught so many short fluke, I wondered if a keeper-sized flatfish would ever get a shot at our baits. I saw a few other patrons land keepers, but I was stuck in shortyville. The action was great, but reeling up 8-ounces of lead and 16 to 17-inch fluke from the depths soon began to feel like work.
A few drifts and about a dozen throwbacks later, I finally had a better fish on. I got it about halfway up before it shook the hook. About ten minutes later, I had another solid take and put a near 20-inch fluke in the net. I continued to catch a bunch of short flatfish as I watched most of the boat pick away at keepers.
Finally a keeper!
Dave was busy with throwbacks for most of the morning. Right around lunchtime, he set the hook on what looked like a monster. After a well-spirited battle, we saw a belly-hooked, 20-inch flatfish on the surface. It wasn't the doormat we were hoping for, but it was another solid keeper. We played the throwback game for a little longer before Dave nailed two keepers on back-to-back drops on our last drift of the day.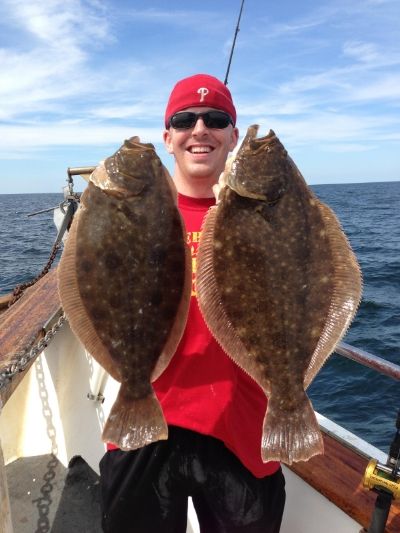 Dave with a pair of his three keepers
When the final horn sounded most of the patrons had a flattie or two. I think high hook had four, but I'm not sure if that was a catch made by a couple of anglers. I didn't see any true doormats, but most of the keepers were thick 20-inch fish and the pool winner was pushing 5 pounds.
Our box of flatties
The mates made the rounds looking for pool fish, but we didn't have any quality fish to challenge the 5-pounder that was already on the hook. A few others were close and as it turned out, one was so close that two anglers split the pool money.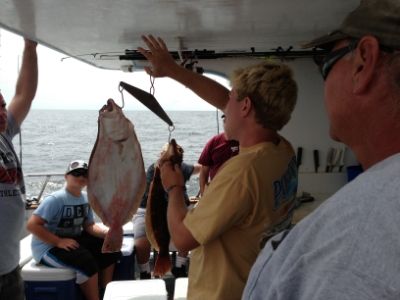 Pool fish
We drug our cooler to the cleaning table and watched as the mates filleted flounder after flounder. It's been a while since I had someone clean fish for me and it was a real treat. The guys were good and made quick work of the flatfish.
Fish-cleaning pros
Looking back, there was nothing truly memorable about this trip, yet I found it incredibly enjoyable. My catch was far from spectacular; Dave did a little better, but we've experienced 100s of trips with better action. I guess part of it was the incredible weather and ocean conditions: air temps were about 75 degrees with a light breeze and wave heights were never more than two feet. The patrons came from all walks of life; yet, we got along like we knew each other for years. Tangles were at a minimum, even with a full boat, so it seemed like everyone knew at least enough to not ruin anyone's trip. Everyone was there to have a good time and that's just what we did. I have a feeling I'll be back out on the big boat again later this week.