by Frank Ruczynski
I'm not going to pretend that my recent freshwater trips compare to last year's epic striper run, but I've enjoyed my time at the local ponds and lakes a lot more than I could have ever imagined. Fortunately, rainbow trout, largemouth bass, chain pickerel, black crappie, and yellow perch have been more than willing to tug on the line. Over the last month, I've been fishing just about every day and much of the time with a bent rod.
My Morning Workout
Since Hurricane Sandy and the following nor'easter, I've decided to write off this season's fall run and stick close to home. I considered heading down a few times, but it just never felt right. The ocean water temperature dropped like a rock after the storms and I guess a part of me felt like I'd be in the way of people trying to put their lives back together. I keep telling myself next year's first striper will taste that much sweeter.
As it turns out, I think I made the right decision as I've learned much about our local waters and spent lots of time fishing with my family. Most of my prior freshwater experiences were based around the striper run: I'd fish the ponds and lakes in January through February and then again in July and August. Most seasons, we're striper fishing right up until the end of the year and then I start hitting the sweetwater soon after. I really didn't know what to expect from my local fishing holes as I'd usually be striper fishing in December. So I headed out with low expectations figuring if all else fails, I should be able to fool a few chain pickerel with soft-plastic baits and minnows.
On my first trip to a nearby, public lake, I was hooked! Largemouth bass, pickerel, crappie, and perch inhaled my offerings like they hadn't eaten in a month. To tell you the truth, I didn't think this kind of action was possible on public waters. Open-water fishing was a pleasure as I'm used to dealing with thick weed beds and lots of other anglers, but those weed beds are gone and on most days, I've got the whole lake to myself.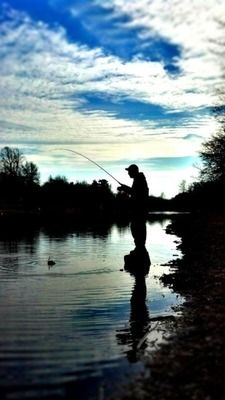 Hooked Up on My Rock
I've taken the kayak out a few times, but most of the time, I put on my waders and work the perimeter of the ponds and lakes. The flats warm up quickly on sunny days and seem to be holding some fish, but they're really schooled up along channel edges. Soft-plastic baits and small plugs accounted for a few fish, but live minnows can't be beat. Finding minnows in December isn't easy, but Blackwater Sports Center in Vineland always has them when I stop by.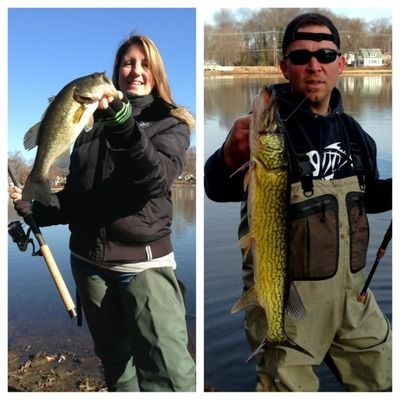 Jen and I Having Fun in Our Waders
The size of the fish seems to depend on the species: most of the largemouth bass and crappies have been on the small side, but I've landed some very large perch and pickerel over the last few weeks. I took my personal-best pickerel the other day from a small, public lake. It took a big minnow and ran me up and down the shoreline before I finally pulled it onto the mudflat. It taped out at 31 inches and beat my previous best by a full inch. I felt like it was a real accomplishment, especially on 6-pound test monofilament.
Big Pickerel and Perch Are Available Throughout the Winter
Not only are there some trophy-sized fish available, but the number of fish landed per trip has been astonishing. On a two to three-hour trip, I've been averaging between twenty and fifty fish, most of which are pickerel and bass. There are a few locations that I can guarantee a fish on the first cast. I've shared the great action with all of my family members and a few friends. There are no tricks or tips, you just have to cast a minnow in the right location and wait for the line to start going out; with action like this, everyone has fun. I certainly wasn't expecting a predictable and dependable bite like this in late-December!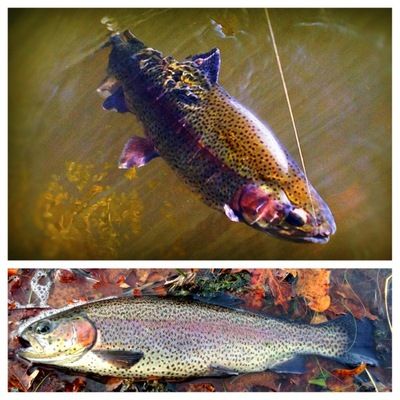 Winter Rainbows
To top it off, there's still plenty of trout swimming in our local waters. The state-stocked trout always grab my attention even though they're just a bonus to some other great fishing opportunities. Beautiful rainbow trout have kept me busy since late November. The big trout have been chasing down spinners and small crank baits. If things get a little slow, a well-placed ball of Berkley PowerBait quickly gets the action going again. The winter stocking took place right before Thanksgiving, but the trout haven't received a lot of attention from anglers so they should be available throughout the winter months. The state hatchery does a great job and needs some feed back to continue improving the fishery. Please take a few minutes to fill out the New Jersey Trout Angler Survey -
https://www.research.net/s/NJFishandWildlife2012troutsurvey