by Frank Ruczynski
Is it me or did summer used to be a lot more fun? The last two summer seasons have really taken a toll on South Jersey. Last summer, we had multiple-record-rainfall events that caused sinkholes, breached dams, historic floods, and extensive property damage. This summer isn't looking much better.
Soon after the 2011 floods, I drove down to Bridgeton to spend some time at Sunset Lake and the Cohanzick Zoo. I was devastated when I arrived and noticed that the once beautiful lake was nothing more than a massive mud flat. Just up the road, I stopped by Seeley's Mill Pond which had breached the roadway and was no longer the picturesque little waterway that I remembered. Dams failed at lakes in Atlantic and Salem counties too.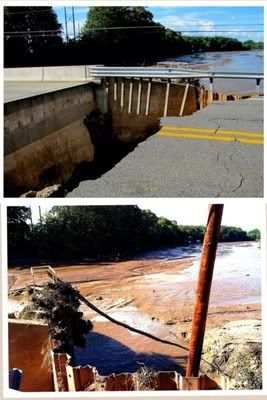 Seeley's Mill Pond 2011
This summer is shaping up to be another memorable one. Last week's storms caused widespread damage and headaches for hundreds of thousands of people living in our area. Many of us learned a new weather term: derecho – a wide-ranging, long-lived, straight-line wind storm that is associated with a fast-moving line of severe thunderstorms. Fallen trees caused fatalities at Parvin State Park – my thoughts and prayers go out to the two young boys and their families. Others in the area were fortunate enough to escape with their lives, but had major damage from dangerous lightning and 70+ mph winds. Some of the worst hit areas were without power for days and all this just happened to occur during our second and worst heat wave of the summer. I was one of the lucky ones, we only had a few limbs down, but I witnessed much of the severe damage to the east in Atlantic County and to the south in Cumberland County. Not quite my idea of fun in the sun!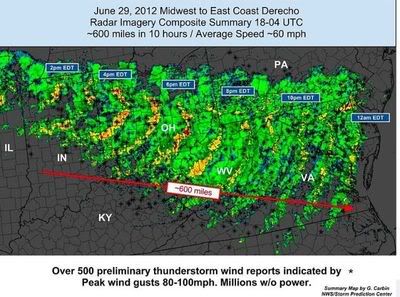 Summer Storm Nightmare
On the bright side, the cleanup is well underway, they'll be no shortage of firewood this winter, just about everyone's power has been restored, and the heat wave is over. I don't know about you, but I'm looking forward to spending the rest of the summer on the water with my family and friends.
After a great winter fishery and a decent spring run, I needed a little time off to recharge my batteries. For anyone that fishes as much as I do, you know what I'm talking about. Lately, I've spent much of my free time rigging my wife's new kayak, turning my utility trailer into a kayak trailer, and getting my fishing gear back into shape. With no real off-season this winter, I neglected some of my usual winter-checklist responsibilities. I have to admit, cleaning and re-spooling reels in an air-conditioned house is almost enjoyable when it's 100 degrees outside.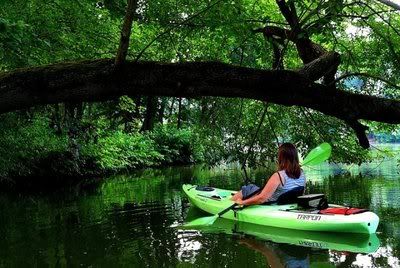 Jen's New Kayak
With a favorable weather forecast and a little time away from my rod and reel, I'm dying to get back on the water. The local lakes and ponds offer some great action during the early-morning and late-afternoons hours and the backwater night bite should be worthwhile. I continue to hear a good deal about weakfish, so I have high hopes for the latter part of the summer season. Traditionally, the late-summer weakfish run provides some of the best action of the year.
I'd like to remind our readers that it's a great time of year to get the kids out on the water. I take my little crew out frequently and plan on getting them out often over the next few weeks. Whether you fish freshwater or saltwater, the summer months offer a tremendous amount of fishing opportunities. A bobber and a baited hook should provide lots of action in most of our lakes and ponds. Sunfish and catfish are plentiful in our waters and will usually provide steady action until you run out of bait. In saltwater, a plethora of species are available to our coastal anglers. It's tough to beat snapper bluefish, but croakers, kingfish, and little sea bass can usually be found in good numbers.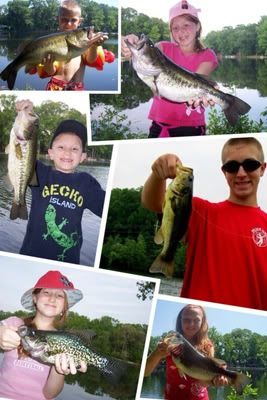 My Little Fishing Buddies
Over the years, I've learned a few things while fishing with my kids. My best advice: Make sure to never forget the snacks and keep the trips as action-packed as possible. Kids don't care what they're catching as long as they're catching something. You'll find that sand sharks, stingrays, and turtles are much more admirable than any striped bass, summer flounder, or largemouth bass. I can promise you one thing, they'll never forget the time they spent with you on the water!
Summer Memories