by Frank Ruczynski
Ok, it's time to catch up. I'm not sure if this week's blog will be up to par as my brain may not be fully functional due to a serious lack of sleep, but I'll do my best. The last two weeks are a bit of a blur. With brook, brown, and rainbow trout in the local watering holes, largemouth bass on the beds, weakfish and bluefish invading the bays, and the spring striper run in full swing, who has time for sleep? I've been fishing day and night and I love every minute of it!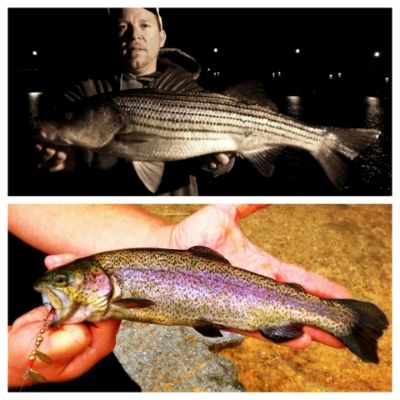 Fishing Day and Night
Even when I'm not fishing, I spend a tremendous amount of time outside. Over the years, I've noticed some connections between nature and fish migrations/patterns. Little things like certain flowers blooming or a particular animal sighting, often correlate to fishing action in some way. Some of the old timers swear when the dogwood trees bloom, weakfish enter the bay. One of my triggers is frogs: each spring, the first night I hear the spring peepers singing, I call my buddies and say it's time to catch stripers. My best weakfish action usual coincides just days after the cherry blossoms fall off the trees.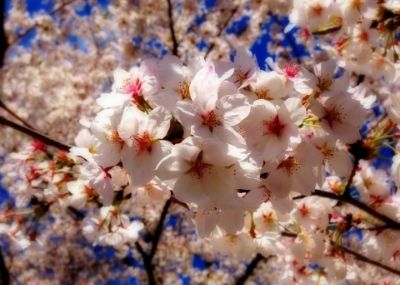 You See Cherry Blossoms, I See Weakfish
Closer to the water, many of us use diving birds as a sure cue of an ongoing blitz, but there are other, more subtle, hints to finding fish if you keep your eyes open and your mind working. I feel like night herons are my personal little fish finders. If I walk up to a marina with fifty slips, the herons are always perched above the most productive holes. The night herons feed on little fish much like our backwater striped bass, bluefish, weakfish, and summer flounder so it only makes sense that they would show up in the same areas. Good anglers have one thing in common: they pay attention to every detail in their environment and use what they learn to catch more fish.
The sweet water trout bite hasn't been very complicated, when you see the big truck and the guys with nets, it's probably a good time to fish. Fishing for stocked trout might not be the most challenging or rewarding way to fish, but it sure is a great way to spend a day with my boys. The state stocks a bunch of lakes within minutes of our house and I just can't pass up a truckload of trout on a beautiful 70-degree day.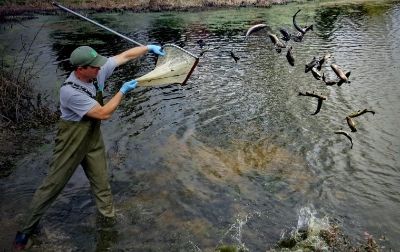 Time for Trout
Last Thursday was Take Your Child to Work Day and as luck would have it, the hatchery truck was due to hit our local lake on the same day! Jake and I packed up our gear and headed to Harrisonville Lake for the day. The guys stocked the spillway with brookies and the lake with rainbows and a few brown trout. After I took a few photos, Jake and I started working spinners in the spillway and had beautiful brookies on almost every cast for a good hour before we moved over to the main lake. Within minutes, we had rainbows chasing down our double-bladed spinners. With a total of five guys fishing the entire waterway, 400 trout was more than enough to keep us busy for the afternoon.
Another Great Day with Jake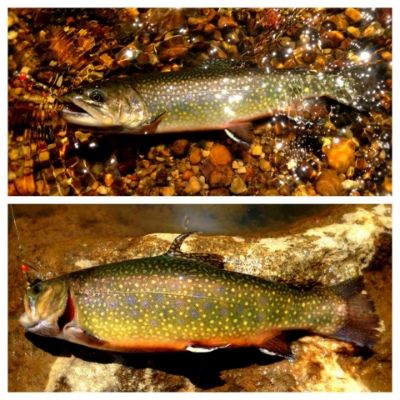 Beautiful Brookies
While the trout trips are fun, it's the saltwater action that keeps me up at night. With some bigger bass and weakfish popping up, it's tough for me to not spend every minute in the water. Fishing action has been good and it should get much better in the coming weeks. The recent full moon and what seems like a never-ending, east wind didn't help the weakfish bite, but the stripers didn't seem to mind. Some better-sized bass moved into the backwater and they've been a blast on light tackle.
Skinny Water Fun
I feel like I'm surrounded by stripers: they're in the rivers, bays, and surf. I try to do it all, but I usually find myself leaning towards the backwater bite. While I prefer to fish with light tackle in the backwaters, you can bet I'll be out front when the big girls come out of the bay.
Local surfcaster, John Jones has been hitting the suds and bay shores with his son Jimmy. The Jones boys have been plugging the bay shores in the evenings and surf fishing with clams during the day. They've been catching good numbers of 25 to 34 inch fish. My son, Frankie, and I have the back covered. We've landed lots of schoolies and a few keeper bass up to 37 inches on jigs and soft-plastic baits. As fun as it is to be on the water, it's ten times better when you can share the adventures with your offspring.
The Next Generation
If you haven't been out yet, it's time to grab your gear and get out there! Fishing action is good and getting better everyday. It's time to put on the waders; you know where I'll be.