by Frank Ruczynski
The recent stretch of cool days and chilly nights has striped bass fever surging through South Jersey. While just about everyone I know is trying for striped bass, we're sitting back and enjoying one of the best late-summer/early-fall weakfish runs in at least five years. Like everyone else, I'm looking forward to the fall run, but I'm not in a hurry. Once the striped bass arrive in numbers, we'll have them around well into December; maybe later, if this year's push is anything close to last season's run. One good storm or a string of strong cold fronts could end the outstanding weakfish bite in a heartbeat, so I'm going to enjoy this weakfish run for all its worth!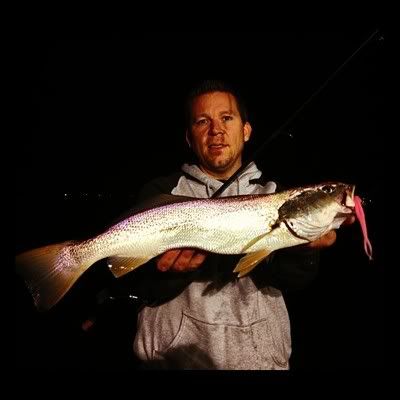 Enjoying the Weak Nights!
Just a few days ago, ocean temperatures from Atlantic City to Cape May were in the seventies. As of today, the Atlantic City station is reporting 62.8 degrees while Cape May is a little higher at 66.4 degrees. I rarely check the backwater temperatures, but I'd bet they're hovering in the mid to high-fifties. With another cold front swinging through today, we may see the water temperatures drop a few more degrees before they stabilize later in the week.
As expected, the recent drop in water temperature slowed the weakfish bite slightly and increased the striped bass action at most of the areas we frequent. Fortunately, weather forecasters are predicting day-time air temps around 70 degrees later this week, so I don't think those weakies are going anywhere in the immediate future. Years ago, we had weakfish in the back bays until Thanksgiving, but most years we see them thin out right around Halloween. I'm hoping our little head-shaking, spike-toothed friends hang around for at least a few more weeks.
Northwest Wind Equals Bass
Our recent trips have been spent fishing around lighted structure: bridges, bulkheads, fishing piers, and docks. Schools of baitfish are thick everywhere, but they're especially abundant under the lights. More times than not, when you see snapper bluefish or hickory shad feeding on the surface, it's likely that weakfish are holding in the same areas. While we do see weakfish join in on the surface action from time to time, they usually seem to prefer to hold a little deeper in the water column. I usually fish with light-action-spinning gear and rarely throw more than ¼ to ½-ounce jigs - sometimes I have to get creative to keep my offering close to bottom, especially in areas with a lot of current.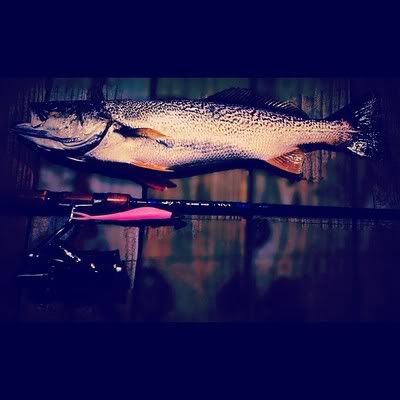 Light-Tackle Weakfish
Over the last few weeks, my buddy, Dave and I experienced one of the best fall weakfish bites we've seen in a while. We've been hitting a few of our favorite lights and pulling out weakfish after weakfish on just about every trip. Our best night happened about a week ago when we teamed up for close to fifty weakfish up to 22 inches. On more than one night, it literally took seconds before we had weakfish on the end of the line. First cast, second cast, third cast – they all came back with fish on the end of the line and this would go on for hours most nights!
The unbelievable action became so predictable that I had to get my kids in on the great bite. Jake and Julia have been on night trips with me before, but it's always been with peanut bunker or mullet on the end of the line; fishing with soft-plastic baits is a lot more work and requires some feel. I took Jake with me the first night and told him exactly what do to; thankfully, he seemed to catch on quickly. I figured a worst-case scenario would have him reeling in some of the fish I hooked. I was pleasantly surprised when I saw him concentrating and working the lure through the water column. In this particular fishing spot, it's more about flipping your jig out into the current and quickly getting to the bottom. Once you've contacted the bottom, you need to start jigging and hope for a bite before you've passed the hole and your lure is swept away and towards the surface in the strong current. It took him a little while to get his first bite, but when he did he was hooked! He ended his first trip with a bunch of weakfish, a striper, and a couple of bluefish. As luck would have it, he caught the biggest weakfish of the night and I'm still hearing about it!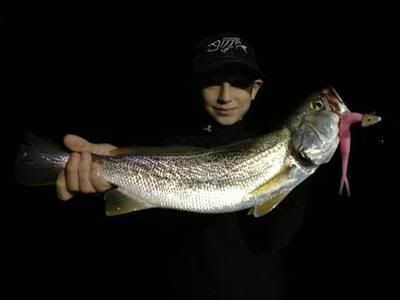 Jake's Learning!
The next night, we returned with Julia in hopes that she would hook her first weakfish and we weren't disappointed. Jake enjoyed showing his big sister the ropes and it wasn't long before she was hooked up. We had a great time with a bunch of weakfish and the kids experienced a few of the great sights and sounds our backwaters offer: we had a massive school of peanut bunker out in front of us, schools of spearing in the lights that were under attack by hungry bluefish, and in the distance, we could hear a lonely owl.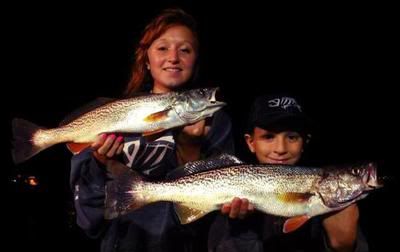 Good Times!
The way I look at it, you can only catch what's in the water and lets face it, there's a lot more weakfish around right now than there are striped bass. I'm going to enjoy what we have while we have it. Each and every one of our trips has been short and uncomplicated. We make a stop or two, catch weakfish to our hearts delight and leave with smiles on our faces. Isn't that what it's all about?